Due to an influx of spam accounts getting through and joining the site, user registrations have once again been disabled until further notice as we work on a different solution.
Kagrra,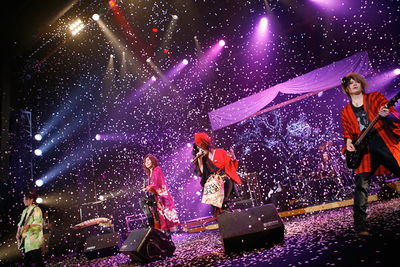 Kagrra, (神楽) was a five member Japanese rock band in the visual-kei scene. They formed in October of 1998 as CROW under the independent label KEY PARTY. A little more than two years later the band signed with PS COMPANY, and in the process changed their name to Kagrra. At the end of 2003 Kagrra debuted as a major act with Columbia Music, adding the comma to their name. Kagrra, incorporated "wa" (和) into their music and visuals, creating a neo-japanesque image. They often wore kimono or other traditional Japanese clothing.
After more than 10 years of activities together, Kagrra, announced on November 11th, 2010 that they would disband (though the members' expressed to use the term "demise") after their one-man tour finale on March 3rd, 2011 at Shibuya C.C.Lemon Hall. Their last studio album, Hyakki Kenran, was released on February 2nd.
Members
Biography
1998~2002
Kagrra, was formed in October of 1998 under the name CROW along with a "sister" band, Lar~Mia. They were both signed with independent label KEY PARTY and informally called themselves "black feathers" and "white feathers" respectively. Unfortunately, not much information is available about their CROW days. They did, however, release a demo tape titled "Momoyo-e" on June 13th, 1999 and contributed a track on the HOLD YOUR KEY 2000 compilation album on January 21st, 2000.
Before the summer CROW signed with PS COMPANY, another independent label and changed their name to Kagrra. They performed for the first time with the new name on June 3rd, 2000 at a memorial one-man live at Takadanobaba AREA. Later on in the month they released their second demo tape "Kotodama". A studio version of the song would later be released as their second single four years later.
Kagrra's first studio release was their first mini-album Nue, which was released on December 1st. After selling fairly fast the mini-album had a second pressing released the following March (on the same day as the release of their second mini-album) and a third pressing in December of the same year. The later presses have renewed cover artwork and contain one new track, "Shiroi Mashu".
On March 3rd, 2001 Kagrra held their first one-man live "Ouka Ranman" at Shibuya ON AIR WEST, released their second mini-album Sakura, and opened up their official fan club "Auga". This mini-album's second pressing was released almost exactly a year later. The second press has renewed cover artwork and contains an acoustic version of the first track "Sakura ~Saikai no Hana~". A few days later (March 5th), Kagrra went on their first nation-wide coupling tour. It was called PK Kassen and went for 10 stops.
Starting with the release of "Genwaku no Joukei" on April 27th, the band started a four consecutive month single release plan. The four singles were each centered around the themes of one of the four seasons. They were available at their lives and were limited to 1,000 copies each. "Memai" was released on May 26th, "Kami Uta" on June 29th, and "Tsurezure Naru Mama ni,,," on July 21st. In September Kagrra, along with other PS COMPANY acts at the time, had a live event in Hong Kong. Also in September they had their first one-man concert Tenchi Souzou ~Kamigami no Utage~. The tour only had four stops and the finale was at Shibuya ON AIR EAST.
Their third mini-album Irodori was released on October 3rd. The mini-album contains all four of the live-house only singles released earlier in the year. A month later, on the 1st, the band had a one-man tour titled Kyouki Ranbu ~Zoku・Kamigami no Utage~. The tour went for 10 stops and its finale was at Shibuya ON AIR EAST. For three consecutive days later on in November they had fan club one-man "Auga Battle" concerts. The lives were on the 22nd to the 24th and were all at Takadanobaba AREA.
The band's next activity was the "Kazarihina Emaki" one-man live on March 3rd, 2002 at Shibuya ON AIR WEST. On the 6th Kagrra had their first video release, Kagura Fuuun Roku. It is their first and only widely available VHS release and its contents are live and offshot footage with backstage images. Next month on April 3rd they released their debut single "~Yumeizuru Chi~".
On May 5th they started the one-man tour Gun'yuukakkyo. During the tour two singles were sold at the venues, "Kakashi" and "Iro ha Niho he to". There are five different covers per single: the covers for "Kakashi" are the members while the covers for "Iro ha Niho he to" has the item on the cover in different positions. This tour was 10 stops and its finale was at Shibuya ON AIR EAST. In the middle of May the band released their fourth mini-album Kirameki on the 15th.
In the summer, on August 20th, they had the "Dairokkan" one-man live at Shibuya ON AIR WEST. On October 4th two singles were released simultaneously. They were their second and third singles "Kotodama" and "Sakura Mai Chiru Ano Oka de". Next month, starting on the 4th Kagrra held a tour in the Kanto region in Japan. It was called Kanto Toubatsu Angya Oku no Hosomichi and hit five stops. Similar to last year, they held another round of the "Auga Battle" one-man concerts. They happened in three consecutive days starting on November 21st, all at Takadanobaba AREA.
Two years after the band's formation (four if you count since the formation of CROW), Kagrra released their debut album [gozen]. The album would reach #14 on the indies Oricon charts and #146 on the major Oricon charts, where it would chart for a week. A photobook based on the album would later be released on May 5th, 2003. A one-man tour to support and promote the release of the album, titled [gozen]-dead of human world-, started on December 18th. The tour was TouNaKa (東名阪; Tokyo, Nagoya, and Osaka) based and hit three stops.
Discography
Studio Albums
Best Albums
Mini-Albums
Singles
Other Singles
VHS / DVDs
Books / Magazines
Books
[2003.05.05] [gozen] Shashinshuu (写真集; Photobook)
[2006.07.07] "Sacra" Shashinshuu (写真集)
[2007.04.25] shizuku Band Score (雫~shizuku~)
[2008.07.19] Core Band Score
Magazines
[2011.02.xx] ARENA37 Degree March 2011 Issue (Feature)
[2011.03.xx] SHOXX May 2011 Issue (Feature)
External Links
<br=/>