Generasia would not be what it is today without the countless contributions by both staff and members alike! Thank you for all that you do!!
MEG (electropop)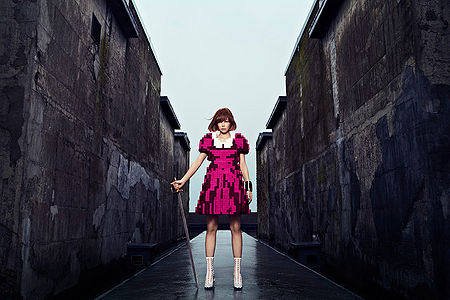 MEG, formerly stylized meg, is a Japanese electronic singer, designer, and fashion model. In 2001 at age 20, she started her career by auditioning for record labels and was signed by indie label BURGER INN RECORDS. She made her debut on November 28th, 2001 with "Kasa to Shizuku". In July of 2004, MEG started her own line labled "cheryl" (now "Carolina Glaser by cheryl"). In January of 2006, she changed the capitalization of her name from meg to MEG. Her music has shown many different styles since the beginning of her career, and most recently consists of electropop. For a while, she was almost exclusively produced by Nakata Yasutaka. In the latter half of 2010, MEG took an hiatus from music, leaving the UNIVERSAL J label and pursuing other activities in Paris, France. On April 25th, 2012, MEG returned to Japan's music scene with her cover album titled LA JAPONAISE, now under KING RECORDS' sublabel StarChild.
Profile
Biography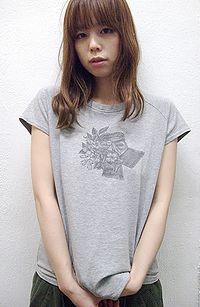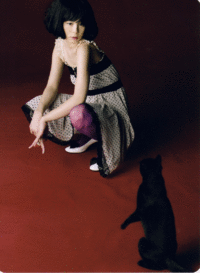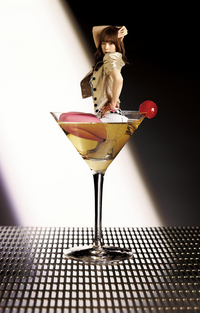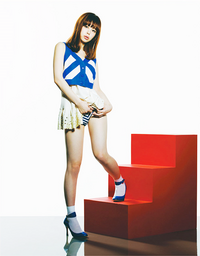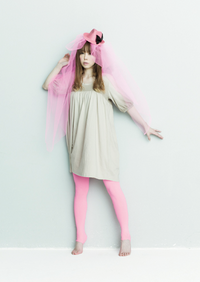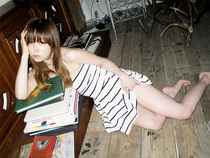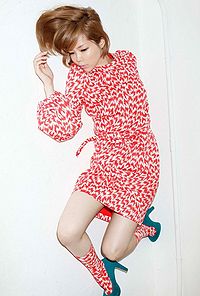 MEG's first introduction to music was through the piano, which she has played since childhood. At the age of 20 she auditioned for an indie record company, BURGER INN RECORDS singing BONNIE PINK's song "It's Gonna Rain!" and passed. She made her indies debut on November 28th, 2001 with "Kasa to Shizuku". This was also around the time MEG started modeling for magazines like CUTiE and Non-no.
On July 10th, 2002 MEG made her major label debut with the single "scanty blues", produced by Okamura Yasuyuki, on label DREAM MACHINE (a label on Warner Music Japan). Her second single was a double a-side; one track was the cover song "Ikenai Kotokai", and it was coupled with her indies song "Kasa to Shizuku". However, it is rumored that Okamura quit producing MEG after this single due to her attitude. But this didn't hinder MEG, as she released two more singles ("Kouro" & "GROOVE TUBE") along with her debut album room girl.

In July of 2004 MEG created a clothing line for the store klein mart TOKYO, hence the creation of "cheryl". There was only one release in 2004, the single "STEREO04". It wasn't released by Warner Music Japan, but instead on LSN Records, making MEG an indies artist once again. Developing her brand took most of her time in 2005, as it was quieter than previous years on the release and live front.
In January of 2006, she changed the capitalization of her name from meg to MEG. Similarly in February, MEG changed the name of her clothing line from cheryl to Carolina Glaser by cheryl. MEG then released the two singles "ROCKSTAR" and "DAWN", along with her second album Dithyrambos, all through SHAMPOO NINE RECORDS (her own indie label). A remix on "Dithyrambos" marks the first time she had worked with Nakata Yasutaka.
In early 2007, Hiroshi Nakamura (i-dep) collaborated with and produced MEG's first mini-album aquaberry. This was released through AZ tribe (on RAINBOW ENTERTAINMENT). Her ninth single, "Amai Zeitaku", was released through SHAMPOO NINE RECORDS on May 30th and was the first to be produced by Nakata Yasutaka. Her second single "OK" was her second major debut single after being signed on Universal Music Japan. The release of the album BEAM two months later was her first album to be produced by Nakata Yasutaka. In 2008, she released "MAGIC" and "HEART", which were included a short six months later on her fourth album STEP. Since then, MEG has collaborated with Hadouken! on her latest single, "FREAK", as well as released her fifth album BEAUTIFUL. She currently released her second mini-album, Journey, in the summer of 2009. It was completely produced by Shanghai Restoration Project.
Discography
Studio Albums
Other Albums
Mini-Albums
Singles
Split Singles
Digital Singles
DVDs
Vinyls
Compilations / Other
Books

External Links