Due to an influx of spam accounts getting through and joining the site, user registrations have once again been disabled until further notice as we work on a different solution.
Sugawara Sayuri
Sugawara Sayuri (菅原紗由理) is a Japanese pop singer formerly signed to For Life Music Entertainment, currently signed to New Style Vision co. On March 30th, 2014, she took on the project name THE SxPLAY.
Profile
Birth Name: Sugawara Sayuri (菅原紗由理)
Stage Names: THE SxPLAY (pronounced 'sprei')
Nicknames: Sayu
Date of Birth: June 29, 1990
Place of Birth: Yokote, Akita, Japan
Blood Type: A
Favorite Artists: Mariah Carey, Rihanna, Christina Aguilera, P!nk, MISIA, DREAMS COME TRUE, BENNIE K, Mr. Children
Likes: Getting nails done, favorite nail cover, red. Eating out, drinking sake, blogging.
Information
Debut
In January 2008, Sugawara participated to 7DAYS Audition and 30DAYS Audition. With her transparent voice, she won both auditions and got a contract with For Life Music Entertainment. On December 17, 2008, Sugawara released her first song digitally through Chaku-Uta, "Destiny" is sampled from Franz Liszt's classical masterpiece "Liebesträume" ([Ger]; Dream of Love) and featured rapper FEROS. In April 2009, she made her major debut with the mini-album, Kimi ni Okuru Uta.
Following the digital success of her song, "Kimi ni Okuru Uta", Sugawara released her debut single "Ano Hi no Yakusoku" on September 30, 2009. On September 3, 2009, at FINAL FANTASY XIII premier, it was announced that she will perform its theme song, "Kimi ga Iru Kara". The song is composed by Hamauzu Masashi and Sugawara also performed its orchestra version on the premier. The single "Kimi ga Iru Kara" was released on December 2, two weeks before the release date of FINAL FANTASY XIII.
On January 27th 2010, Sugawara released her first album, First Story, the album peaked at number #14 on the Oricon charts, selling 10,217 copies.
On May 19, 2010, Sugawara released her 3rd single, "Sunao ni Narenakute," it was used as the insert song for the drama of the same title: Sunao ni Narenakute, starring Eita and Ueno Juri.
On September 1, 2010, Sugawara released her 4th single, ""Suki" to Iu Kotoba" it used as the theme song to the 2010 version of the drama Kasouken no Onna. In October, Sugawara held her first LIVE tour at Shinsaibashi and Shibuya CLUB QUATTRO titled; Sugawara Sayuri Live Tour -The One-. She also held school festival LIVE tours in November at Touhou, Kitasato and Momoyama Universities.
Close To You, Forever... and Asu ni Naru Mae ni
On December 22, 2010, Sugawara released her second mini-album, Close To You. Sugawara embarked on her mini live tour entitled, -Close To You- in late February, with performances at CLUB QUATTRO in Shinsaibashi on February 25th and Nagoya's E.L.L. on March 2nd. The final tour took place in Akasaka on March 4th, over 1000 fans packed into Akasaka BLITZ for the final concert.
On July 20, 2011, Sugawara released her third mini-album, Forever.... The mini-abum is said to be be the sequel to her second mini-album. Sugawara arrvied in Akita, her hometown for a free special LIVE concert, three days after the release of the mini-album. People as faraway as Tokyo and Yokohama travel to see the LIVE concert.
On October 5, 2011 Sugawara announced her 5th single, "Asu ni Naru Mae ni" released on December 7, 2011. The title song was written by Kato Kanako, who also wrote lyrics for Jang Geun Suk's Japanese debut "Let me cry."
2012 and 2nd full-length album
On March 28, 2012, Sugawara released her 6th single, "Habataku Kimi e," two days after her one-man LIVE at Shibuya duo MUSIC EXCHANGE! on March 26th. The music video of the single featured INAC Leonessa's player, Kawasumi Nahomi.
On June 27, 2012, Sugawara was featured in singer-songwriter Sunya's first album, DRAMA, in the song called, "Zutto Zutto Futari de...". She also participated in the joint planning of Recochoku and music.jp as the fifth artist in, "I LOVE COVER." The theme is, "Are there any male music artists that you want to cover?" The chosen song was determined by requests and votes. The digital single was released on June 27, the cover song was Sukima Switch's second single, "Kanade."
On August 24, 2012, Sugawara announced she would be releasing her second full-length album, Open The Gate on November 14th. A song from the album titled, "Koi no Mahou" was used as the theme song to the movie Bingo, starring Shimizu Kazuki and Matsui Sakiko from AKB48. The movie was released on September 22nd.
2013-14 and the creation of THE SxPLAY
In March 2013, Sugawara began working on a new song called, "Wild Flower." The song is a tribute to the 2011 Tohoku earthquake and tsunami. She described it as; time consuming and something she wanted to tell everyone firmly. As of June 15th, she has recorded 4 new songs.
In late 2013 and early 2014, Sugawara uploaded two new song demos to her YouTube account. In February 2014, she revealed through an essay on storys.jp that she had left For Life Music and instead wanted to debut as an indies singer. On March 30th, 2014, her new project called THE SxPLAY (pronounced "sprei") was announced. She also announced the debut mini album of THE SxPLAY, Call To Action, at that time.
2nd THE SxPLAY mini-album & 1st full album
In early 2015, she was featured in a song called "After the Storm" from YUKI JOLLY ROGER of BK Project's album, The Logbook Vol.I. In November of that year THE SxPLAY's second mini-album Butterfly Effect was released. Her first official song release of 2016 came in September, when it was announced that she had recorded two songs for a popular mobile app called Deemo. You could receive the two songs, "Guardian" and "Kimi ga Nokoshita Sekai de", by completing the game. She was later called upon to create the main theme of the promotion video for the book "Boku wa Robot Goshi no Kimi ni Koi wo Suru"--her song was first released under the working title "Boku ga Kimi no Soba ni Iru Riyuu." It was later released under the same title as the book. She released several more digital singles in 2018, and finally wrapped up the year by releasing her first digital album, and her first full album under THE SxPLAY, Memento.
First Best Album
On April 8, 2020, she released her first best album, BEST OF 3650 DAYS, including works from her time as THE SxPLAY and Sugawara Sayuri. It was released through her former label, FOR LIFE MUSIC, and included two new tracks. Both new tracks, "Kimi to Kono Sora no Shita de" and "MY NEVER ENDING STORY" were released as digital singles.
On December 20, 2020, she announced that she had married a non-celebrity person on December 10th.
Over two years later on February 20, 2022, she announced the birth of her first child, a boy.
Trivia
People often tell her she is taller than they thought she would be. (She's 165cm tall, or 5'5".)
Dislikes raw fish.
Before her debut, she used to sing at a bar her friend ran.
Has a pet rabbit named Mimi, who was the model for her official goods.
Favorite character is Hello Kitty.
Very good at basketball, so much so that she was recommended admission to her high school because of it.
Wanted to become a cheerleader in high school.
Discography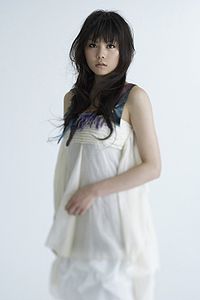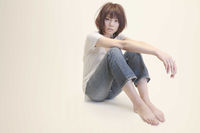 Albums
Best Albums
Mini-Albums
Singles
Digital Singles
Compilations / Other
External Links