Mike Alway's Diary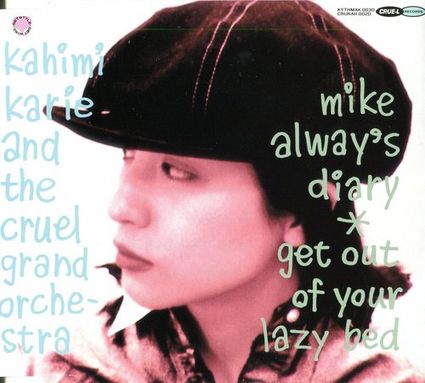 Artist

Single

Mike Alway's Diary (CD)

Released

1992.12.22

Catalog Number

KYTHMAK 002D

Tracklist
Mike Alway's Diary (Japanese Version)
Mike Alway's Diary
---
Single

Mike Alway's Diary (Vinyl)

Released

1992.12.22

Catalog Number

KYTHMAK 003D

Tracklist
Mike Alway's Diary
Information
"Mike Alway's Diary" is the debut solo single released by Kahimi Karie. It is credited to her and the cruel grand orchestra. The single is produced by Oyamada Keigo (better know as CORNELIUS), whom was Kahimi's boyfriend at the time. It is her first solo release after working as part of Fancy Face Groovy Name with Minekawa Takako. The single was released in both a CD and a 7 inch vinyl record format by CRUE-L RECORDS. The song is a reference to Mike Always, Kahimi's friend and the founder of the larger él Records.[1] It was written and recorded in French with Takimi Kenji the head of CRUE-L RECORDS. "GET OUT OF YOUR LAZY BED" is a cover of the 1984 debut single by the UK band Matt Bianco.
The single did not rank on the weekly Oricon chart. However it received positive reviews; All Music described it as a "breezy, effortless maxi-single by then unknown Kahimi Karie, who would go on to become one of the main exemplars of the Shibuya-Kei style."[2] Kahimi also took care of photography for the single.
Song Information
Lyrics

Music

Oyamada Keigo, Takimi Kenji

Other Information

Engineers: Mori Tatsuhiko, Watanabe Yoshinori
Guitar, bass, and sequencing: Oyamada Keigo
Keyboards: Arakawa Yasunobu
Percussion – Toda Yoshie
Trumpet – Ohashi Nobuyuki
Whistle : The Crue-L Triflingtalk Whistlers: Oyamada Keigo, Takimi Kenji, Ohashi Nobuyuki, Arakawa Yasunobu
Critics
Momus recalls the night that he first meet Kahimi and went back to their Roppongi apartment. He recalls being very critical of "Mike Alway's Diary". He felt that it was too much of a parody of the él style, too derivative. If they really wanted that kind of pastiche, Momus promised that he could do it even better. "Rather than taking offense, my new Japanese friends took me at my word, and I found myself engaged, the following year, in composing and recording with Kahimi." After this point he became Kahimi's main creative collaborator.[3]
References
External Links