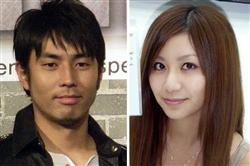 Two celebrity baby births were announced on Tuesday. First, actor Hakamada Yoshihiko (37) and gravure idol Kawanaka Ai (25) celebrated their first daughter on February 18. The baby girl was born earlier than expected, but it is said that she is healthy.
Hakamada and Kawanaka tied the knot on August 8 of last year, and about two weeks later they announced that Kawanaka was in her third month of pregnancy.
The other birth announcement came from kabuki actor Nakamura Kantaro (29) and actress Maeda Ai (27). Their first son entered the world on Tuesday afternoon, and he is also said to be in good health.
Nakamura and Maeda have been married since October 2009.
Sources:
Sankei Sports
Sankei Sports