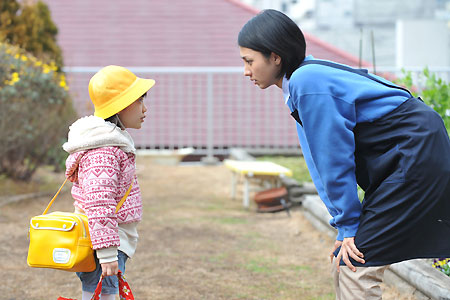 Actress Mitsushima Hikari (25) has been cast in the NTV drama special "Sayonara Bokutachi no Youchien," it was announced on Tuesday. The drama was first unveiled in January as the first to star the popular child actress Ashida Mana (6), setting a record as the youngest lead ever in a Japanese drama.
As previously reported, the story is named after a school graduation song that has spread in popularity in recent years. Ashida plays one of a group of five children at the same kindergarten, who suddenly set out on a trip by themselves to an unfamiliar place, resulting in a panic among their parents and the kindergarten staff.
Mitsushima plays a teacher with a lukewarm personality, who has been unable to get close to others or even to love herself. When the young students disappear, she remembers things that she has forgotten and precious things that she has lost, leading her to reconsider her current life.
Mitsushima, who recently married young director Ishii Yuya, has been on a roll as an actress during the past couple years. She has appeared in award-winning films such as "Ai no Mukidashi" ("Love Exposure"), "Kawa no Soko Kara Konnichiwa" ("Sawako Decides"), and "Akunin" ("Villain"), which have also earned her various individual awards as an actress.
NTV has scheduled "Sayonara Bokutachi no Youchien" for broadcast on March 30 at 9:00pm.
Source:
Mantan Web