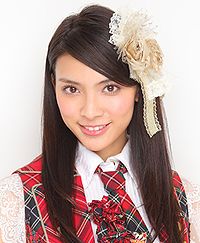 AKB48 member Akimoto Sayaka (22) successfully ran the Tokyo Marathon on Sunday. She finished the course in 6 hours, 50 minutes, and 6 seconds, barely within the 7-hour time limit for the marathon. As a result, AKB48 producer Akimoto Yasushi rewarded her efforts by announcing the reinstatement of Akimoto as the captain of Team K.
Akimoto personally resigned from the captain position last October after it was revealed that media creator Hiroi Oji (57) had spent a night at her apartment, though the situation was apparently innocent. Many fans have been supportive of her since then, sending messages assuring her that she didn't need to quit.
Akimoto's re-appointment as captain was accompanied by another announcement that same day. Her management agency, office48, revealed that she will be part of a new 4-member unit called DiVA. She is being grouped with fellow AKB48 members Umeda Ayaka (22), Masuda Yuka (19), and Miyazawa Sae (20). The group will release their debut single on April 27 under avex trax.
Source:
Daily Sports