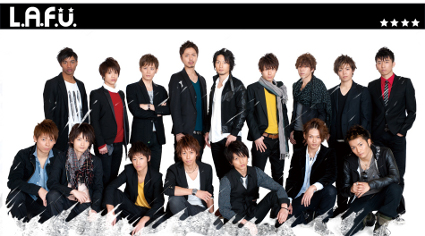 Management agency Yoshimoto Kogyo is producing a new 16-member "ikemen unit" called L.A.F.U. The group was unveiled at an event at the Yoshimoto Mugendai Hall in Shibuya on Monday.
Approximately 2,000 people auditioned for the unit, and 16 were chosen in the end. The group will hold their first stage show at Mugendai Hall on April 2, and they plan to perform there every Saturday. Their shows will be a mix of song, dance, and comedy.
The members are currently working on writing their own songs, though it is reported that only a few "elected" members will sing. Some in the media are likening the group to a "male AKB48," but the members themselves said that they perceive EXILE as their rival. The group's leader (27) even named himself after EXILE's leader, though he writes his as ヒロ instead of HIRO.
More information about the group and its members is available on their website.
Sources:
Sankei Sports
Sports Hochi