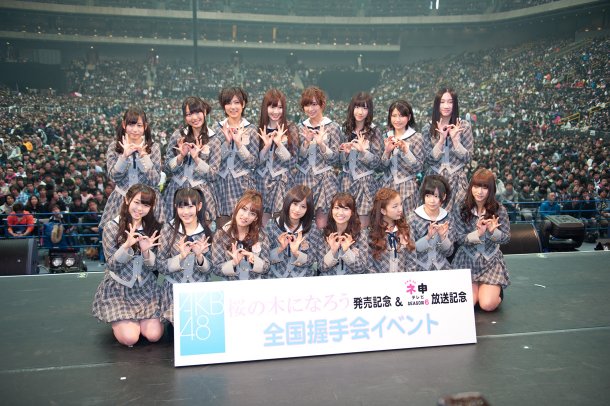 16 members of the AKB48 family took the stage at Saitama Super Arena on Saturday for one of the group's mini-concert and handshake events. They set a new personal record for themselves, gathering approximately 22,500 fans for the event, surpassing the crowd of 20,000 that attended their handshake event at Kyocera Dome last December.
Saturday's event was part of a series of eight handshake events across the country that started on February 20, celebrating the release of AKB48's latest single "Sakura no Ki ni Narou." The group has another one at the same venue on Sunday, making the fact that they brought in a record crowd even more impressive.
"Sakura no Ki ni Narou" was released on February 16 and sold more than 942,000 copies during its first week in stores. During the concert portion of the handshake event, Oshima Yuko announced that the single recently passed 1 million in sales.
The members also talked about the renewal of their television show "AKB48 Nemousu TV," which is now confirmed to start its 6th season on April 24. The week before that, the show will have a 2-hour special aired on April 17, featuring six of the AKB48 research students in Guam.
On the same day as the event, new information was released regarding AKB48's first original album, scheduled for release on April 6. The album is officially titled "Koko ni Ita Koto" and contains 16 tracks, 11 of which are new songs that have never been released on CD before. This includes the title track, sung by the members of AKB48, SKE48, SDN48, and NMB48.
The limited editions and the regular edition of the album will come with a DVD containing choreography versions of the music videos for "Ponytail to Chouchou," "Heavy Rotation," "Beginner," and "Chance no Junban."
Natalie
Natalie
Sponichi Annex