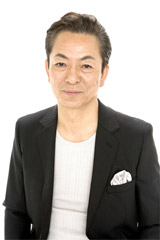 Actor Mizutani Yutaka (58) will take on his first solo starring movie role in nearly three decades. He has been cast in "Itoshi no Zashiki Warashi," directed by the same Izumi Seiji who handles Mizutani's popular television series "Aibou." However, his character in this movie is very different from the detective he plays on that show.
Mizutani co-starred in the recent "Aibou" movies, but his last lead role by himself on the big screen was in the 1983 movie "Nogare no Machi."
"Itoshi no Zashiki Warashi" is based on a novel of the same name by Ogiwara Hiroshi which was nominated for the Naoki Prize in 2008. Mizutani plays a man named Takahashi who works as an assistant chief for a major foodstuff maker, but he gets transferred to a rural branch and has to move his family to a 200-year-old house in the countryside of Iwate. With no real place to fit in either at work or at home, things are falling apart in the Takahashi household – consisting of a dissatisfied wife, a daughter who secretly worries about friendship problems, an inquisitive but overprotected son, and a mother suspected to be suffering from dementia. However, an encounter with a "zashiki-warashi" (a type of yokai, or spirit) leads them towards regaining the family bonds they once had.
The movie will be shot between June and July, but it is not scheduled for release until Golden Week in early May of next year.
Source:
Oricon