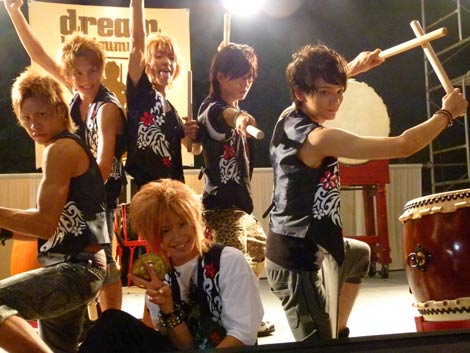 Shibuya-kei fashion magazines "men's egg" and "egg" are at the center of a new movie by director Yamaguchi Yudai ("Cromartie High School," "Elite Yankee Saburo"). The film, titled "men's egg Drummers," features several models from both magazines – including Sato Ayumu and Tanaka Daichi – in a youthful story of friendship.
The project was first revealed in December, but more details have now been released as promotions for the film are ramping up.
Actor Furukawa Yuki plays the protagonist Keita, the successor to a historic Shino shrine who has always led an ordinary life since childhood. One day, before the big annual moon-viewing festival, Keita's father (Itao Itsuji) suddenly falls ill, leaving Keita in charge of running the festival.
Meanwhile, all of the members of the featured taiko drum performance are unable to participate, so Keita must quickly hold an audition for new performers. Rui, a popular model for "men's egg" (played by Maeda Goki), shows up for the audition, despite being sorely out of place at the shrine. Several of his admirers – played by models Sato Ayumu, Tanaka Daichi, Yoshida Katsumi, and Saito Chihiro – gather with him, and they begin fiercely practicing for the taiko performance. Although Keita is uneasy about the unlikely crew at first, his opinion of them gradually changes. However, a temple priest (Nagashima Toshiyuki) is secretly plotting to usurp the festival, putting the entire event in danger.
Other cast members include Takabe Ai and "egg" models Kawabata Kanako and Shishikura Kanae.
"men's egg Drummers" will begin screening in theaters across the country on July 16.
Source:
Oricon