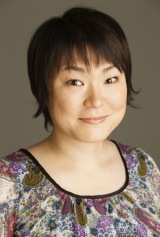 Actress Kubota Maki (38) is expecting her first child, it has been learned. She is said to be in her sixth month of pregnancy, putting her due date around October. She plans to take maternity leave starting in mid-July, and the date of her return to work will depend on her health after the birth.
Due to her pregnancy, she will be dropping out of the stage play "Ooku: Daiisshou," which stars Matsushita Yuki and is scheduled for performances in Tokyo in October and Nagoya in November.
Kubota has been married since June 2006 to a magazine and web designer.
Source:
Oricon