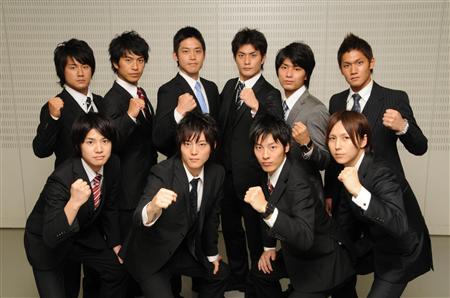 In March, TV Asahi revealed that it was working on a drama adaptation of the Motomiya Hiroshi manga "Ore no Sora: Keiji-hen." More details have now been released, including the fact that the lead actor will be decided by an online poll. This is the first time that a drama series on a national network will have its star decided by votes on the Internet.
The original "Ore no Sora" manga tells the story of a young man named Yasuda Ippei, whose father is the head of Japan's greatest business conglomerate. In the "Keiji-hen" sequel, the fiery Yasuda becomes a police detective.
TV Asahi initially announced that it would hold a public audition for the main character. The field of 2,700 applicants was whittled down to 10 finalists, and TV Asahi decided to have the winner determined by the public. As per the audition rules, all 10 are amateurs who are not currently signed with a management agency.
The finalists include 25-year-old Umeda Hiroki, who currently works as an assistant director for the TV Asahi show "Morning Bird!" All of the finalists can be seen on the "Ore no Sora" website, which includes links to video introductions from each one of them. Each of them is also opening a personal blog today, and voting will begin at the same time.
Meanwhile, the drama's female lead has already been decided. Actress Kuninaka Ryoko (31) will play a fellow detective who is also a potential love interest for the main character.
Actor Nagai Masaru (33) was also revealed as a cast member last month.
"Ore no Sora" will air on Sundays at 11:00pm this fall.
Sources:
Sankei Sports
TV Asahi