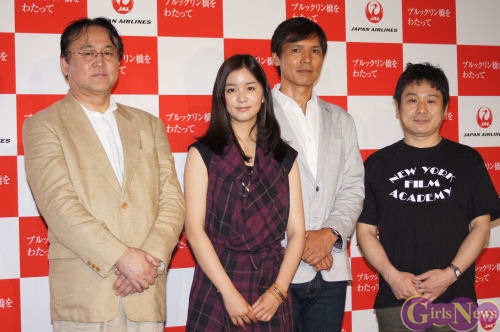 On Thursday, a press conference was held to officially announce a new movie from director Yokoyama Hiroyuki, titled "Brooklyn-bashi wo Watatte" ("Across Brooklyn Bridge"). The film was shot almost entirely in New York, requiring lead actress Ishibashi Anna (18) to speak much of her dialogue in English.
The movie is based on a story written Kurashina Ryo, best known for his manga series such as "Jyouou" and "Jotei." Ishibashi stars as a high school student who begins living in New York due to her father (Abe Yuji), a reporter, being transferred there for work. She is unaccustomed to her new life, but music brings her closer to a young American man.
Theatrical release is scheduled for this autumn.
Source:
Sports Hochi
GirlsNews
Related links:
Trailer (Oricon)
Press conference (Horipro YouTube channel)