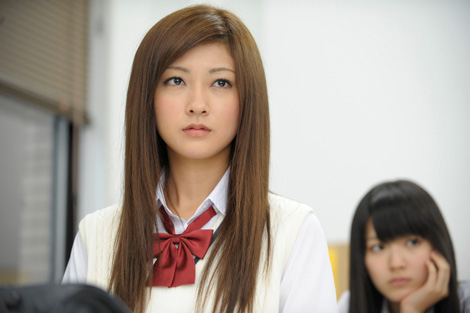 Just a few weeks ago, it was announced that idol groups Berryz Koubou and °C-ute are starring together in a stage adaptation of "Sengoku Jieitai." It turns out that they have another collaboration in the works, in the form of a movie based on a popular mobile phone novel.
The 12 combined members of the two groups will play high school students in a suspense/horror story called "Ousama Game." Kumai Yurina (Berryz Koubou) and Suzuki Airi (°C-ute) have the starring roles.
The story begins to unfold when Honda Chiemi (Kumai) and her childhood friend Nobuaki (played by actor Sakurada Dori) receive an email one night from a sender named "Ousama" ("king"). The message tells them that they must carry out certain orders within 24 hours or else face punishment. After that, everyone in their class begins receiving similar emails, and things begin to escalate.
Yoshizawa Hitomi, also affiliated with Hello! Project, will play the teacher of the class.
Including side stories, the original "Ousama Game" has grown into a series of four works. Publisher Futabasha has released them in novel form, and they have also been turned into comics as well.
Horror director Tsuruta Norio ("Orochi," "Ring 0: Birthday") is in charge of the film. Theatrical release is scheduled for this winter.
Sources:
Oricon