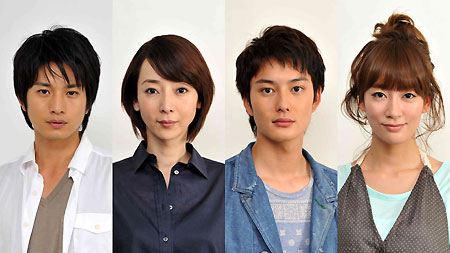 The award-winning drama series "Aishiteru ~Kaiyou~" (NTV) is getting a sequel this fall in the form of a special episode. Inamori Izumi will return in the starring role, joined by Mukai Osamu, Okada Masaki, and Mizukawa Asami.
The original television series in 2009 was based on a manga by Ito Minoru. The story focused on the relationship between a mother and her young son Tomoya, after Tomoya kills another boy. It averaged a 14.8% rating, hitting as high as 18.6% for its final episode. It later won the Tokyo Drama Awards that same year.
The special episode sequel, titled "Aishiteru ~Kizuna~," is based on the manga's short sequel that was published last year. It takes place years later, after Tomoya has already grown up into an adult. Mukai plays the part of Tomoya, while Okada plays the role of the younger brother Naoto who was born at the end of the original series. The story is mainly told from Naoto's perspective, painfully growing up as the younger brother of a killer. Mizukawa plays Naoto's girlfriend Kana.
NTV has not yet announced a specific broadcast date for the special.
Sources:
Mantan Web
Cinema Today