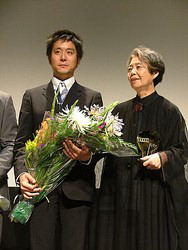 The winners of the 35th Montreal World Film Festival were presented on Sunday, August 28, the last day of the festival. Two Japanese films received awards this year – Harada Masato's "Waga Haha no Ki" ("Chronicle of My Mother") and Zeze Takahisa's "Antoki no Inochi" ("Life Back Then").
"Waga Haha no Ki," which stars Yakusho Koji, Kiki Kirin, and Miyazaki Aoi, received the Special Grand Prix jury prize, considered to be the festival's second-highest award. This is the 5th Japanese film to receive that honor, and the first one since 2005.
The film is scheduled to premiere in Japan in 2012.
"Antoki no Inochi," starring Okada Masaki and Eikura Nana, took home the Innovation Award. That film will open in Japanese theaters on November 19, 2011.
Source:
Mainichi Shimbun