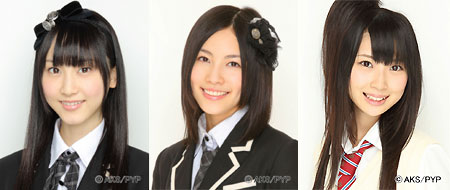 AKB48 sister group SKE48 will finally host their first regular television show in the Tokyo area. Starting in October, NTV will begin broadcasting "SKE48 no Magical Radio" in a late-night time slot. The show is described as a drama-like variety show, with Matsui Jurina, Matsui Rena, and Takayanagi Akane as the three main members.
The setting for "SKE48 no Magical Radio" is a fictional radio station in Nagoya. Takayanagi plays the DJ of a third-rate show called "Magical Radio," and in order to improve the show, the director (Matsui Rena) adds a former popular child actress (Matsui Jurina) as another host, much to Takayanagi's indignation. They will each use their own names for their characters.
With that basic premise, the members will put their acting skills to the test as the story of "Magical Radio" unfolds. For parts of the show, the members will not know the scenario beforehand, requiring them to ad-lib their lines.
Wakabayashi Masayasu of the comedy duo Audrey will play a writer for the radio show, while Sato Jiro will play a radio producer. The assistant directors, sponsors, and other characters will mostly be played by SKE48 members.
"SKE48 no Magical Radio" will air late on Tuesday nights at 1:29am. The first episode on October 11 will start half an hour later at 1:59am.
Source:
Mantan Web