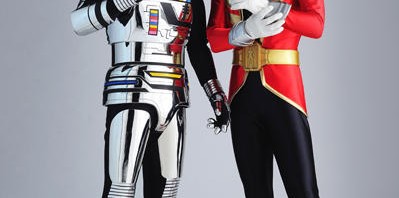 The tokusatsu hero "Uchuu Keiji Gavan" is making a comeback after almost 30 years, in the next "Kaizoku Sentai Gokaiger" movie. Actor Oba Kenji (56), who played the original "Gavan" protagonist Ichijouji Retsu, will also appear in the movie.
"Uchuu Keiji Gavan" aired in 1982-1983 as the first show in the Metal Hero Series, which lasted until 1999. The show averaged 14.9% ratings, with a peak of 18.6%.
Because next year marks the 30th anniversary of the premiere of "Uchuu Keiji Gavan," the character was chosen to team up with "Kaizoku Sentai Gokaiger" for the new film, which is appropriately titled "Kaizoku Sentai Gokaiger vs. Uchuu Keiji Gavan." The movie is scheduled for release on January 21, 2012.
The story involves the Gokaiger team rescuing Gavan from the worst prison in space, and then teaming up to fight against the one of their strongest enemies ever. Oba will not only transform into Gavan, but also into his other characters Battle Kenya (from "Battle Fever J") and Denzi Blue (from "Denshi Sentai Denziman").
Source:
Sports Hochi