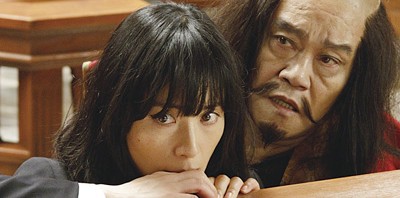 "Suteki na Kanashibari," the newest film from acclaimed director Mitani Koki, opened this past weekend on 427 screens across the country. Over Saturday and Sunday, approximately 390,000 people went to see the movie in theaters, grossing about 533.4 million yen.
The movie outperformed even "The Three Musketeers," which opened on 721 screens on Friday. Over the two weekend days, that movie had an audience of about 200,000 people, grossing 322.0 million yen to rank #2 at the box office. At #3 was the animated "Suite Precure" movie, earning more than 197.4 million yen on 168 screens.
"Suteki na Kanashibari" is the 5th feature-length film directed by Mitani, starring Fukatsu Eri and Nishida Toshiyuki along with a star-heavy supporting cast.
Mitani's previous film, "The Magic Hour" (2008), earned a total gross of 3.92 billion yen during its box office run. Before that, "The Uchoten Hotel" (2006) earned 6.08 billion yen.
Source:
Mantan Web