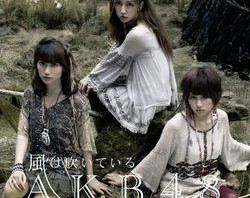 AKB48's newest single, "Kaze wa Fuiteiru," is at the top spot on the CD singles chart, selling more than 1.3 million copies. Announced earlier this week, AKB48 is now the first artist to sell at least 1 million copies of a single on the first day, twice in a row. They are also the first artist to sell 1 million copies of a single in the first week, three times in a row.
In terms of first week sales, AKB48 has the three best-selling singles of all time: "Flying Get" (1.354 million), "Everyday, Kachusha" (1.334 million), and "Kaze wa Fuiteiru" (1.300 million).
With 10 consecutive #1 singles, they have now surpassed Pink Lady for the record of most consecutive #1 singles by a female group. In addition, their total single sales since their debut in 2006 have now reached 10.340 million copies, making them the 4th female group to surpass 10 million in sales, after Pink Lady, SPEED, and Morning Musume.
Meanwhile, child actress Ashida Mana ranked 4th with her solo debut single. At 7 years and 4 months old, she is the youngest artist to ever rank in the Top 10, breaking the previous record of 13 years old set by Goto Kumiko in 1987.
On the albums chart, the "Persona 4" album "Never More -Persona 4 Rinne Tensei-" ranked #1 with almost 27,000 copies sold.
Persona 4 – Never More -Persona 4 Rinne Tensei- – 26,869
Shoujo Jidai – The Boys – 21,227
Coldplay – Mylo Xyloto – 15,429
back number – Superstar – 10,519
Saito Kazuyoshi – 45 STONES – 10,466
Noel Gallagher's High Flying Birds – Noel Gallagher's High Flying Birds -7,635
Kimura Kaela – 8EIGHT8 – 7,148
Tohoshinki – TONE – 7,091
Tegomass – Tegomass no Mahou – 6,989
Sources:
Oricon (weekly single ranking)
Oricon (weekly album ranking)
Oricon
Oricon