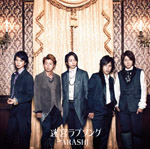 Arashi's newest single, "Meikyuu Love Song," took the top spot of the weekly CD singles chart, making it their 25th consecutive No. 1 single since "PIKA★★NCHI DOUBLE" back in February 2004. In total, this is their 32nd chart-topping single, putting them behind only B'z (45 top singles) and Hamasaki Ayumi (37 top singles).
YUI's latest album, "HOW CRAZY YOUR LOVE," ranked #1 on the album charts, becoming her 5th consecutive top-ranking album. Among female singer/songwriters, YUI is the most recent to accomplish this feat since Utada Hikaru did so with her "Utada Hikaru SINGLE COLLECTION VOL. 2" album in December 2010.
Goto Maki broke into the top 10 with her latest full album, "Ai Kotoba (VOICE)." For Gomaki, it's been 7 years and 9 months since one of her full albums managed to rank in the top 10. The last one was her 2nd full album, "2 Paint It Gold," back in January 2004.
YUI – HOW CRAZY YOUR LOVE – 131,771
Kuroyume – Headache and Dub Reel Inch – 17,067
Shoujo Jidai – The Boys – 15,739
Kim Hyun Joong – Lucky – 14,594
Coldplay – Mylo Xyloto – 9,370
Justin Bieber – Under the Mistletoe – 8,401
Goto Maki – Ai Kotoba (VOICE) – 7,213
Chouchou-P feat. Hatsune Miku – Glorious World – 7,037
Sources:
Oricon (weekly single ranking)
Oricon (weekly album ranking)
Oricon
Oricon
Oricon