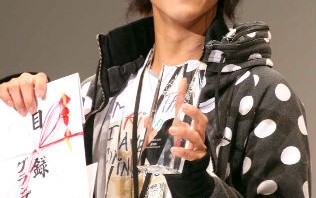 Women's magazine JUNON held the final round of its 24th JUNON Superboy Contest on Sunday in Roppongi. This year's Grand Prix winner, selected from a total of 13,228 entrants, was 19-year-old Sano Gaku from the Aichi prefecture.
Sano's profile lists him as being 165 centimeters tall, weighing 55 kilograms, and having blood type A. In junior high and high school he belonged to the soccer club, but he is currently in the lacrosse club during his first year at university.
The other winners this year were:
Semi-Grand Prix: Isaka Ikumi (15)
Special Judges' Prize: Shiono Akihisa (16), Ito Shun (17)
Maxim Stick Menu Award: Isaka Ikumi
Aoki Award: Shiono Akihisa
LaLaTV Award: Shinzato Kota (16)
This year's judging panel included AAA members Nishijima Takahiro, Uno Misako, and Atae Shinjiro, as well as model and talento Reina Triendl.
It was also announced at the event that next year, for the contest's 25th anniversary, JUNON will hold their first Supergirl Contest.
Sources:
Mantan Web
Mantan Web
Oricon