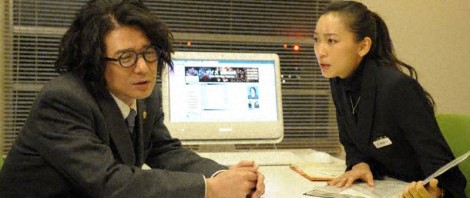 Actor Yoshioka Hidetaka and model/actress Anne will star in a drama special titled "Nekoben ~Shitai no Minoshirokin~." The drama is based on the winner of TBS and Kodansha's 3rd Drama Gensaku Taisho (an award for original novels for dramas), written by Oyama Junko.
Yoshioka plays the lead character Momose Taro, a genius lawyer who has earned the nickname "Neko-ben" ("Cat Lawyer") for the unusual amount of pet-related cases he handles. He is also unable to leave helpless cats alone, so he ends up keeping more than 10 cats at his office. Due to circumstances, he was raised in an orphanage as a child, so he has a strong yearning to have a family. Looking for marriage, he receives assistance from a marriage counselor (Anne), but he has already 30 unsuccessful omiais (meetings for an arranged marriage).
The drama focuses on a specific case involving the theft of a hearse from a funeral hall, carrying the deceased president of a major shoe company. His relatives have a reason for being unable to notify the police, so Momose is called upon to solve the case. However, the thief calls and demands a ransom for the body, turning it into a baffling case.
The supporting cast includes Kimura Midoriko, Yanagihara Kanako, Itaya Yuka, Iwamatsu Ryo, Nonami Maho, Arakawa Yoshiyoshi, Ishida Akira (of NON STYLE), Ueda Koichi, Shiomi Sansei, Ito Shiro, and Watanabe Misako.
The story will be published as a tankoubon this month and in bunko format in March. TBS will then broadcast the 2-hour drama on April 23 at 9:00pm.
Source:
Oricon