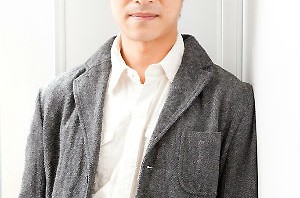 Actor Sakai Masato (38) will star in a new Fuji TV drama series this spring, titled "Legal High." This will be his first time acting as a lawyer. It will also be his first time sharing the screen with actress Aragaki Yui (23), who has been cast as the female lead as another lawyer.
"Legal High" is a comedy written by Kosawa Ryota ("ALWAYS: Sanchome no Yuhi"), who has never written a drama for Fuji TV before. Sakai plays Komikado Kensuke, a cranky, sharp-tongued, cynical, wasteful lawyer who loves money, reputation, and women. Komikado believes in the idea that "the winner is right," and he uses any means to maintain his perfect-win record. However, he gradually realizes that his idea of justice is wrong, and he begins to remember what it feels like to really fight.
Aragaki plays a rookie lawyer named Machiko who is passionate about protecting the weak. Namase Katsuhisa plays Miki, the head of a major law firm who once looked after Komikado but now strongly views him as an opponent after it seemed like Komikado was going to usurp control of the company. Koike Eiko plays Miki's secretary, while Satomi Kotaro plays a clerk at Komikado's firm.
Fuji TV will broadcast "Legal High" on Tuesday nights at 9:00pm, beginning in April.
Sources:
Mantan Web
Cinema Today