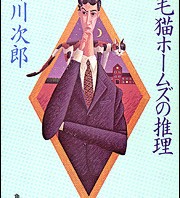 Two Arashi members will be starring in separate television dramas this spring. Ohno Satoshi (31) will occupy Fuji TV's Monday 9:00pm time slot with "Kagi no Kakatta Heya," while Aiba Masaki (29) will take over NTV's Saturday 9:00pm time slot with "Mikeneko Holmes no Suiri." Both shows will be mystery dramas.
For Ohno, this will be his first time starring in a drama series on Fuji TV, not to mention his first in the network flagship "Getsu 9" (Monday 9:00pm) time slot. That time slot is currently occupied by "Lucky Seven," which stars fellow Arashi member Matsumoto Jun (28). This will be the first time that Arashi members have starred in back-to-back "Getsu 9" dramas.
"Kagi no Kakatta Heya" is based on a novel by author Kishi Yusuke. Ohno plays an employee of a major security company who has to unravel various incidents. The series falls under the "locked room" mystery genre, in which crimes are committed under seemingly impossible circumstances (such as within a room with no apparent means of escape). Ohno's character has an obsession with studying keys and locks, giving him an advantage in solving each mystery.
"Mikeneko Holmes no Suiri," on the other hand, is based on a popular novel series by Akagawa Jiro. Also known in English as "Calico Cat Holmes," the series has had dozens of books released, with a total of more than 26 million copies in print.
Aiba plays Katayama Yoshitaro, the son of a famous police detective. He followed his father's dying wish and became a detective as well, but with his inability to look at blood and his fears of heights, ghosts, and women, he failed to succeed in his work. But one day, he meets a Calico cat named Holmes who can understand human speech and has extraordinary powers of deduction. The two form a duo, working together to solve difficult cases.
Both "Kagi no Kakatta Heya" and "Mikeneko Holmes no Suiri" will begin airing in April.
Sources:
Sankei Sports
Sankei Sports