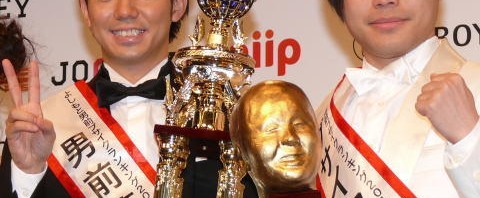 Yoshimoto Kogyo has announced the results of its reader-based "otokomae" ("handsome") and "busaiku" ("ugly") rankings of the agency's comedians. The rankings have been conducted every year since 2000 in Yoshimoto Kogyo's "Monthly Yoshimoto Plus" magazine.
Ayabe Yuji, a member of the popular duo Piece, was voted #1 for the first time on the men's "otokomae" list, while Babazono Azusa of Asian was voted #1 on the women's "beppin" list.
NON STYLE's Inoue Yusuke ranked #1 on the men's "busaiku" list, and Asian's Sumida Miho ranked #1 on the women's "buchaiku" list.
Otokomae Ranking (Men)
Busaiku Ranking (Men)
Beppin Ranking (Women)
Buchaiku Ranking (Women)
Sources:
Eiga.com
Yoshimoto Kogyo