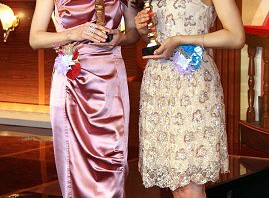 The 35th Japan Academy Prize award ceremony was held on Friday. Although most of the winners were announced in January, the "Best" awards in each category were finally revealed. Narushima Izuru's "Youkame no Semi," starring Inoue Mao and Nagasaku Hiromi, overwhelmed the competition by winning in 10 of the 13 domestic categories.
Two additional "Wadai Awards," given in recognition of a movie or individual that generated a lot of buzz, were revealed at the ceremony. "Moteki" won in the movie category, while AKB48's Maeda Atsuko won in the actor category.
The rest of the awards are listed here.
Source:
Japan Academy Prize