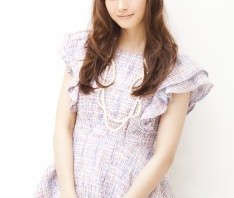 Fujimoto Miki (27) and comedian Shoji Tomoharu (36) are now parents. Their agencies announced that Fujimoto gave birth to a baby boy at 7:03am on March 27 at a hospital in Tokyo. The child weighed 3,065 grams at birth and is said to be healthy.
Shoji was in Okinawa for the 4th Okinawa International Movie Festival, but he rushed back to Tokyo on March 26 and made it in time for the birth.
The two have been married since 2009. Fujimoto was once the leader of idol group Morning Musume until 2007, when her relationship with Shoji was discovered. Since then, she has mainly been active as a talento. She is also a member of the Dream Morning Musume group that formed last year, though she was unable to participate in the group's recent concert tour due to her pregnancy.
Sources:
Sankei Sports
Natalie