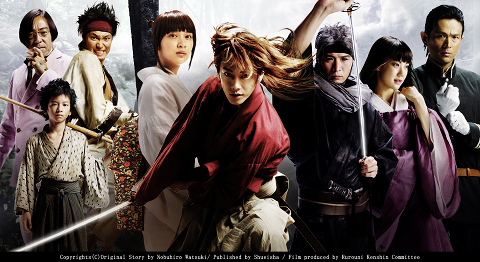 LA EigaFest 2012 has announced that its opening film will be the live-action "Rurouni Kenshin" movie, which will make its North American premiere with that screening. Director Otomo Keishi will attend both the premiere and the festival's opening red carpet ceremony.
The movie, which stars actor Sato Takeru, opened in Japanese theaters on August 25th.
LA EigaFest is a Japanese film festival that started in 2011 with sponsorship from Los Angeles's Japan Film Society. This year's festival will be held on December 14-16 at the Egyptian Theatre in Los Angeles.
In addition to "Rurouni Kenshin," the festival will also screen "The Floating Castle" (Nobou no Shiro), "Thermae Romae," "Helter Skelter," "Kirishima Thing" (Kirishima, Bukatsu Yamerutteyo), "Rakugo Eiga," and "Wolf Children" (Ookami Kodomo no Ame to Yuki).
Source:
Anime News Network
LA EigaFest