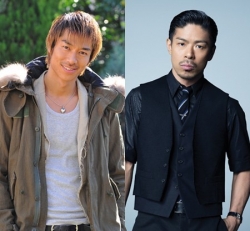 The recent remake of the "GTO" live-action drama series will continue next year with a 2-hour special episode, titled "GTO Oshougatsu Special." Fuji TV will broadcast the episode during the New Year's holidays, on January 2 at 9:30pm.
EXILE member AKIRA (31) will naturally reprise the starring role as the former gang m member-turned-teacher Onizuka, but EXILE member MATSU will also make a guest appearance as a mysterious cabaret club manager who is monitoring Onizuka.
The story for the episode involves Onizuka throwing a Christmas party for his students, but one student, Miki (played by Nishiuchi Mariya), is feeling depressed by herself. Miki also ends up meeting a handsome teacher (played by Hiraoka Yuta) at a cram school session she attends with her classmates.
Meanwhile, Onizuka's policeman friend Saejima (Yamamoto Yusuke) rescues and falls for a cabaret club hostess (AAA's Uno Misako) while on patrol, and when he gets called to her apartment, he discovers that she has disappeared, leaving three infants behind. Onizuka sets out to find her, while he and his students end up taking care of the children.
Gravure idol Dan Mitsu and actor Osugi Ren are also making guest appearances.
"GTO" was originally a manga by Fujisawa Toru, and it was first turned into a hit drama series in 1998 starring Sorimachi Takashi, averaging 28.5% ratings with a peak of 35.7%. The new remake aired from July to September of this year and got 13.2% ratings, the highest of that season's dramas. The remake already had one special episode aired in October, less than a month after the series ended.
Sources:
Mantan Web
Oricon