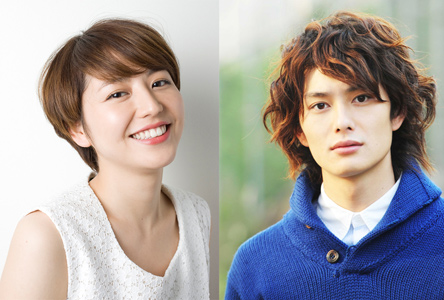 Ikeumi Ryo's award-winning shojo manga "Kiyoku Yawaku" is getting a live-action movie adaptation, starring Nagasawa Masami (25) and Okada Masaki (23). This will be their first time acting together. Shinjo Takehiko, who previously handled the "Paradise Kiss" and "Boku no Hatsukoi wo Kimi ni Sasagu" adaptations, will serve as director.
"Kiyoku Yawaku" was originally serialized in Shueisha's magazine Cookie from 2004 to 2010, and in 2009 it won a Kodansha Manga Award.
The movie will focus on the pure love story between two young adults who have both been burdened by tragedy. Nagasawa plays the part of Seto Kanna, whose childhood friend died in an accident. Although she had to deal with a heavy sense of loss up until entering adulthood, through various experiences and struggles she manages to regain a positive outlook on life. Meanwhile, Okada plays the part of Akazawa Roku, who carries a strong sense of guilt after he survived an accident in elementary school while his female classmate died. The two meet several years later, while Kanna is working at a film company and Roku is working at a publisher.
The movie is scheduled to start shooting in February 2013, with theatrical release targeted for fall 2013.
Sources:
Oricon
Cinema Today