Due to an influx of spam accounts getting through and joining the site, user registrations have once again been disabled until further notice as we work on a different solution.
FTISLAND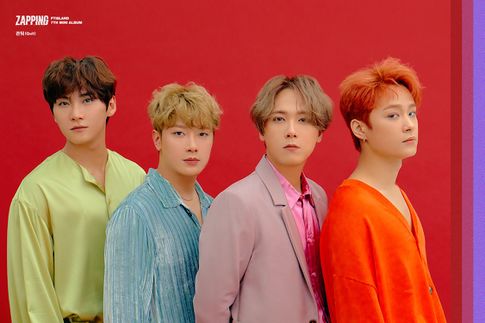 FTISLAND (FT아일랜드; エフティー・アイランド) is a Korean band consisting of five members. They debuted in Korea in 2007 with the album Cheerful Sensibility under FNC ENTERTAINMENT. One year later they debuted as indie artists in Japan under AI Entertainment with the mini-album Prologue of FTISLAND -Soyogi-. In 2010, they changed labels in Japan and officially debuted as major artists under Warner Music Japan. FT stands for "Five Treasure" and means that each member is a treasure of talent in their own right. The official color of their fan club, Primadonna, is yellow.
Members
Former Member
Information
Korean Debut
FTISLAND' debut album was planned to be released in May, 2007, but instead it was decided that they would do promotional performances and appearances. They first appeared on the television program "Dugeun Dugeun Yeochinmandeulgi", later they performed live at Rolling Hall, and held their first official showcase at Live House Melon-AX in Seoul on May 27th, 2007. The day after their first album was released, they made their debut on the music program M!Countdown with the song "Love Sick".
Cheerful Sensibility, their debut album was divided into two parts: the "Emotional Chapter" and the "FTISLAND Chapter". "Emotional Chapter" consisted of rock ballads produced by composers who worked for singers as SG Wannabe. The "FTISLAND Chapter" included upbeat songs and were produced by composers who worked with the Japanese group SMAP. The album sold 79,786 copies in 2007, making it the sixth best-selling album of the year in South Korea.
On December 6th, 2007, FTISLAND released their first repackage album The Refreshment. Following the trend of the first album, it also had an "Emotional Chapter" and a "FTISLAND Chapter", but this time the two chapters were divided between the 2 CDs. The repackage album came in a cardboard box with a photobook, it also had a pack of cards with photos on them, and a music mixing program so the vocals and instruments on the CDs could be freely adjusted. This edition sold 36,957 copies.
Japanese Debut
Half year later, in June 2008, FTISLAND releases their first Japanese mini-album, Prologue of FTISLAND -Soyogi-. After the mini-album promotion in Japan, the group returned to Korea and they released their second Korean album, Colorful Sensibility, in August.
This new album was the first part of a two-parts project and three months later, in October, the mini-album Colorful Sensibility (Part 2) was released to complete the project.
In December, 2008, the band released their first single in Japan, "The One", under the indie label AI Entertainment. The single eventually reach #9 on the Oricon daily charts. This single was the last release in which the member Oh Won Bin participated.
In January 28, a statement confirmed that Oh Won Bin would leave the group but also that he would be replaced by another person. Just one day later, the new member, Song Seung Hyun, was announced and in only 14 days they released a music video, performed live as a new line-up and finally released their second Korean mini-album Jump Up.
In the summer of 2009 FTISLAND started their "2009 Asian Tour" and visited Singapore, Japan, Thailand, China and Taiwan.
After the release of one more Korean album, Cross & Change, and a Japanese single, "Raining", the band released their second Korean repackage album, Double Date. In this album it was included, as the CD 2, the single of the FTISLAND's sub-group FT.triple, which was formed by the members Choi Jong Hun, Choi Min Hwan, and Lee Jae Jin.
On November 14, 2009, FTISLAND started their national tour, titled "Men's Stories" in Seoul. In December and as their last release of the year, their first full Japanese album, So Long, Au Revoir, was released. The album was a compilation of all their previously released songs in the Japanese singles. This album was their last release under AI Entertainment, as in March 2010 it was revealed that they signed with Warner Music Japan. They released their fourth and first major Japanese single in May 19, 2010, "Flower Rock". The single reached #4 on the Oricon weekly charts, becoming their best selling single in Japan.
The group is released their fifth Japanese single, "Brand-new days", only two months later, in July 14. In August 2010, the group released their Korean comeback mini-album Beautiful Journey The mini-album was their first release in Korea with new material since the repackaged album Double Date, released almost one year before.
Trivia
Official Fanclub: Primadonna
Official Color: Yellow
Korean Discography
Albums
Mini-Albums
Best Albums
Other Albums
Digital Singles
DVDs
Compilations
Japanese Discography
Albums
Mini-Albums
Best Albums
Singles
Digital Singles
DVDs
International Discography
Digital Singles
Filmography
Television
Dramas
Commercials
[2007] Smart Uniform
[2008~2009] Litmus
[2009] Baviphat
[2009] Saewookkang
External Links