Due to an influx of spam accounts getting through and joining the site, user registrations have once again been disabled until further notice as we work on a different solution.
Formula of Love: O+T=Love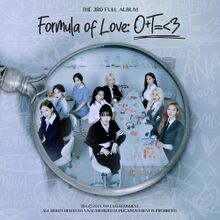 Artist

Album

Formula of Love: O+T=<3

Released

2021.11.12
Tracklist
Information
Formula of Love: O+T=<3 is the third full-length Korean album released by TWICE. The song "SCIENTIST" was used as the lead track.
Chart Positions
Oricon Physical Album Chart
Despite being a Korean release for TWICE, the album still managed to chart on the Japanese Oricon chart.
Year
Week
Mon
Tue
Wed
Thu
Fri
Sat
Sun
Week Rank
Sales
Releases
2021
WEEK 48
-
-
-
-
-
-
-
2
24,778
WEEK 49
-
-
-
-
-
-
-
11
8,659
WEEK 50
-
-
-
-
-
-
-
7
16,461
WEEK 51
-
-
-
-
-
-
-
14
4,042
WEEK 52
-
-
-
-
-
-
-
28
2,036
Doughnut
2022
WEEK 1
-
-
-
-
-
-
-
30
3,834
WEEK 2
-
-
-
-
-
-
-
11
3,443
WEEK 3
-
-
-
-
-
-
-
15
2,497
WEEK 4
-
-
-
-
-
-
-
31
1,411
WEEK 5
-
-
-
-
-
-
-
51
860
WEEK 6
-
-
-
-
-
-
-
66
954
WEEK 7
-
-
-
-
-
-
-
89
569
WEEK 8
-
-
-
-
-
-
-
72
670
WEEK 9
-
-
-
-
-
-
-
123
395
WEEK 10
-
-
-
-
-
-
-
74
834
WEEK 11
-
-
-
-
-
-
-
59
816
WEEK 12
-
-
-
-
-
-
-
64
776
WEEK 13
-
-
-
-
-
-
-
62
869
#TWICE4
WEEK 14
-
-
-
-
-
-
-
98
663
WEEK 15
-
-
-
-
-
-
-
84
751
WEEK 16
-
-
-
-
-
-
-
83
533
WEEK 17
-
-
-
-
-
-
-
89
470
WEEK 18
-
-
-
-
-
-
-
56
681
WEEK 19
-
-
-
-
-
-
-
81
838
WEEK 20
-
-
-
-
-
-
-
61
609
WEEK 21
-
-
-
-
-
-
-
148
232
WEEK 22
-
-
-
-
-
-
-
107
292
WEEK 23
-
-
-
-
-
-
-
166
267
WEEK 24
-
-
-
-
-
-
-
152
166
WEEK 25
-
-
-
-
-
-
-
167
200
WEEK 26
-
-
-
-
-
-
-
171
214
WEEK 27
-
-
-
-
-
-
-
195
222
WEEK 28
-
-
-
-
-
-
-
253
177
WEEK 29
-
-
-
-
-
-
-
221
175
WEEK 30
-
-
-
-
-
-
-
174
190
WEEK 31
-
-
-
-
-
-
-
125
340
WEEK 32
-
-
-
-
-
-
-
129
341
Celebrate
WEEK 33
-
-
-
-
-
-
-
182
225
WEEK 34
-
-
-
-
-
-
-
196
211
WEEK 35
-
-
-
-
-
-
-
275
140
WEEK 36
-
-
-
-
-
-
-
284
147
WEEK 37
-
-
-
-
-
-
-
x
x
BETWEEN 1&2
OUT FOR 8 WEEKS
WEEK 46
-
-
-
-
-
-
-
121
340
WEEK 47
-
-
-
-
-
-
-
139
269
WEEK 48
-
-
-
-
-
-
-
116
282
WEEK 49
-
-
-
-
-
-
-
178
233
WEEK 50
-
-
-
-
-
-
-
194
226
WEEK 51
-
-
-
-
-
-
-
187
217
WEEK 52
-
-
-
-
-
-
-
193
230
Year
Month
Rank
Sales
2021
November
8
33,437
December
13
26,373
2022
January
32
9,133
Total Reported Sales: 84,001*
External Links