Generasia would not be what it is today without the countless contributions by both staff and members alike! Thank you for all that you do!!
Formula of Love: O+T=Love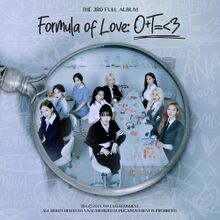 Artist

Album

Formula of Love: O+T=<3

Released

2021.11.12
Tracklist
Information
Formula of Love: O+T=<3 is the third full-length Korean album released by TWICE. The song "SCIENTIST" was used as the lead track.
Chart Positions
Oricon Physical Album Chart
Despite being a Korean release for TWICE, the album still managed to chart on the Japanese Oricon chart.
Year
Week
Mon
Tue
Wed
Thu
Fri
Sat
Sun
Week Rank
Sales
2021
WEEK 48
-
-
-
-
-
-
-
2
24,778
WEEK 49
-
-
-
-
-
-
-
11
8,659
WEEK 50
-
-
-
-
-
-
-
7
16,461
WEEK 51
-
-
-
-
-
-
-
14
4,042
WEEK 52
-
-
-
-
-
-
-
28
2,036
2022
WEEK 1
-
-
-
-
-
-
-
30
3,834
WEEK 2
-
-
-
-
-
-
-
11
3,443
WEEK 3
-
-
-
-
-
-
-
15
2,497
WEEK 4
-
-
-
-
-
-
-
31
1,411
WEEK 5
-
-
-
-
-
-
-
51
860
WEEK 6
-
-
-
-
-
-
-
66
954
WEEK 7
-
-
-
-
-
-
-
89
569
WEEK 8
-
-
-
-
-
-
-
72
670
WEEK 9
-
-
-
-
-
-
-
123
395
WEEK 10
-
-
-
-
-
-
-
74
834
WEEK 11
-
-
-
-
-
-
-
59
816
WEEK 12
-
-
-
-
-
-
-
64
776
WEEK 13
-
-
-
-
-
-
-
62
869
WEEK 14
-
-
-
-
-
-
-
98
663
WEEK 15
-
-
-
-
-
-
-
84
751
WEEK 16
-
-
-
-
-
-
-
83
533
WEEK 17
-
-
-
-
-
-
-
89
470
WEEK 18
-
-
-
-
-
-
-
56
681
WEEK 19
-
-
-
-
-
-
-
81
838
WEEK 20
-
-
-
-
-
-
-
61
609
WEEK 21
-
-
-
-
-
-
-
148
232
WEEK 22
-
-
-
-
-
-
-
107
292
WEEK 23
-
-
-
-
-
-
-
166
267
WEEK 24
-
-
-
-
-
-
-
152
166
WEEK 25
-
-
-
-
-
-
-
167
200
WEEK 26
-
-
-
-
-
-
-
171
214
WEEK 27
-
-
-
-
-
-
-
195
222
Year
Month
Rank
Sales
2021
November
8
33,437
December
13
26,373
2022
January
32
9,133
Total Reported Sales: 80,120*
External Links