Generasia would not be what it is today without the countless contributions by both staff and members alike! Thank you for all that you do!!
Macross Frontier Vocal Collection Nyan Tama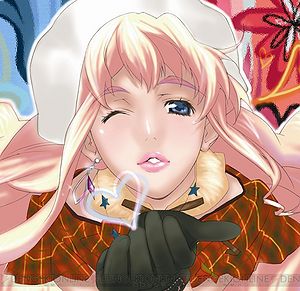 Artists

Album

Macross Frontier VOCAL COLLECTION Nyan Tama♀ (マクロスF(フロンティア) VOCAL COLLECTION 娘たま♀)

Released

2008.12.03

Catalog Number

VTCL-60100~1

Price

¥3,800

CD1 Tracklist
CD2 Tracklist
Information
Macross Frontier VOCAL COLLECTION Nyan Tama♀ is a compilation of opening, ending themes and insert song from the anime Macross Frontier. Although the album collected unreleased tracks from the anime which were not included in the two soundtrack albums, it still misses "Infinity" - solo by May'n on the first soundtrack album and "Shinkuu no Diamond Crevasse" on the second soundtrack album. Each CD also has two special instrumental hidden tracks.
The album sold 86,450 copies in its first week, marking the #120 album of 2008. It sold 117,132 copies in 2009 and was the #67 album of the year.
Oricon Chart Positions
Mon
Tue
Wed
Thu
Fri
Sat
Sun
Week Rank
Sales
-
2
2
2
2
3
3
2
86,450
3
14
9
8
5
5
5
7
22,623
5
14
12
10
10
10
10
11
13,357
16
22
28
13
16
14
19
18
18,435
18
15
23
21
21
17
20
20
22
26
20
21
23
23
25
5,153
20
42
31
25
26
33
27
32
4,096
14
42
41
46
40
37
38
36
3,761
38
-
-
-
-
-
47
58
2,964
-
-
-
-
-
-
-
69
2,058
-
-
-
-
-
-
-
67
1,896
-
-
-
-
-
-
-
92
1,495
-
-
-
-
-
-
-
101
1,648
-
-
-
-
-
-
-
129
1,353
-
-
-
-
-
-
-
119
1,311
-
-
-
-
-
-
-
143
1,082
-
-
-
-
-
-
-
193
966
-
-
-
-
-
-
-
136
978
-
-
-
-
-
-
-
126
913
-
-
-
-
-
-
-
112
954
-
-
-
-
-
-
-
144
1,067
-
-
-
-
-
-
-
110
1,279
-
-
-
-
-
-
-
85
1,311
-
-
-
-
-
-
-
101
998
-
-
-
-
-
-
-
120
978
-
-
-
-
-
-
-
128
1,062
-
-
-
-
-
-
-
112
1,003
-
-
-
-
-
-
-
129
863
-
-
-
-
-
-
-
138
776
-
-
-
-
-
-
-
207
770
-
-
-
-
-
-
-
152
886
-
-
-
-
-
-
-
185
752
-
-
-
-
-
-
-
172
763
-
-
-
-
-
-
-
211
785
-
-
-
-
-
-
-
190
737
-
-
-
-
-
-
-
212
702
-
-
-
-
-
-
-
150
884
-
-
-
-
-
-
-
154
807
-
-
-
-
-
-
-
179
788
-
-
-
-
-
-
-
188
649
-
-
-
-
-
-
-
198
621
-
-
-
-
-
-
-
219
572
-
-
-
-
-
-
-
201
712
-
-
-
-
-
-
-
180
703
-
-
-
-
-
-
-
156
799
-
-
-
-
-
-
-
102
1,052
-
-
-
-
-
-
-
114
1,094
-
-
-
-
-
-
-
104
1,004
-
-
-
-
-
-
-
127
904
-
-
-
-
-
-
-
124
924
-
-
-
-
-
-
-
106
1,092
-
-
-
-
-
-
-
107
1,694
-
-
-
-
-
-
-
96
1,531
-
-
-
-
-
-
-
97
1,527
-
-
-
-
-
-
-
117
1,420
-
-
-
-
-
-
-
145
1,394
-
-
-
-
-
-
-
106
2,674
-
-
-
-
-
-
-
-
-
-
-
-
-
-
95
1,175
-
-
-
-
-
-
-
128
966
-
-
-
-
-
-
-
150
1,026
-
-
-
-
-
-
-
168
738
-
-
-
-
-
-
-
156
789
-
-
-
-
-
-
-
161
679
-
-
-
-
-
-
-
195
741
-
-
-
-
-
-
-
168
814
-
-
-
-
-
-
-
178
786
-
-
-
-
-
-
-
172
732
-
-
-
-
-
-
-
210
774
-
-
-
-
-
-
-
151
787
-
-
-
-
-
-
-
167
692
-
-
-
-
-
-
-
186
595
-
-
-
-
-
-
-
258
531
-
-
-
-
-
-
-
235
560
-
-
-
-
-
-
-
249
407
-
-
-
-
-
-
-
243
411
-
-
-
-
-
-
-
out for a week
-
-
-
-
-
-
-
278
370
-
-
-
-
-
-
-
out for a week
-
-
-
-
-
-
-
270
359
-
-
-
-
-
-
-
out for 8 weeks
-
-
-
-
-
-
-
296
380
-
-
-
-
-
-
-
out for 7 weeks
-
-
-
-
-
-
-
278
421
-
-
-
-
-
-
-
out for 11 weeks
-
-
-
-
-
-
-
273
436
-
-
-
-
-
-
-
out for 2 weeks
-
-
-
-
-
-
-
274
372
-
-
-
-
-
-
-
238
452
-
-
-
-
-
-
-
226
481
-
-
-
-
-
-
-
195
663
-
-
-
-
-
-
-
153
725
-
-
-
-
-
-
-
149
613
-
-
-
-
-
-
-
201
401
-
-
-
-
-
-
-
174
543
-
-
-
-
-
-
-
148
626
-
-
-
-
-
-
-
196
565
-
-
-
-
-
-
-
220
452
-
-
-
-
-
-
-
267
403
Total Reported Sales: 231,219
External Links