Generasia would not be what it is today without the countless contributions by both staff and members alike! Thank you for all that you do!!
Nakajima Megumi
Nakajima Megumi (中島愛) is a seiyuu and Japanese pop singer affiliated with e-stone music. She was managed by Stardust Promotion talent agency from 2003 up until 2014. She is best known for her role of Ranka Lee in the hit anime series Macross Frontier.
Profile
Information
Nakajima Megumi was born from a Japanese father and a Filipino mother. In the year 2003, she won the "Self Stardust Promotion" contest and was signed to Stardust Promotion talent agency. In the year 2007, she auditioned for "Victor Vocal & Voice Audition" and was chosen to voice the heroine Ranka Lee in Macross Frontier. Nakajima then signed with Victor Entertainment Inc. and made her major debut in June 2008 with the single "Seikan Hikou" as her Ranka Lee character. Due to the popularity of the anime series, the single sold 85,799 copies in 2008 and became the #83 single of the year. Following the success of the series, she collaborated with May'n for the single "Lion".
In November 2008, she released her three first songs digitally through Japan mora stores. Because "Tenshi ni Naritai" reached the highest spot between three songs on the store's charts, it was chosen to be the A-side of her first single released in January 2009. Two other songs, "Be MYSELF" and "Pine" were coupled as its B-sides. In December 2008, Nakajima released a special promotional video for her song "Be MYSELF" through Nico Nico Douga networks featuring her dance and received several critical comments from users, causing the remove of the video. Her second single "Nostalgia" was announced by a special card packaged with her Tenshi ni Naritai single and was used as the theme song for the 2008 adaption of the drama Daisuki! Itsutsugo. In February 2009, a special site showed up on Macross Frontier official website which featured a poll for which Macross song do you want covered by Ranka Lee the most. "Tenshi no Enogu" was chosen by fans and was coupled as the B-side of her "Nostalgia" single.
In Spring 2009, it was announced that Nakajima will form an idol unit with Tomatsu Haruka and Hayami Saori for the anime Basquash!. The group was named Eclipse after the name of the fictional super idol group in the anime series. Nakajima also took the role of Citron in Basquash! as her second major seiyuu role. In June 2009, it was announced that Nakajima will provide her voice for the upcoming virtual idol of Megpoid who the character design also based on her Ranka Lee character. In Summer 2009, a new trailer for the first part of the upcoming movie adaption of Macross Frontier showed up featuring a Ranka's new song, "Sou da yo". Along with her live tour, she also released a special DVD for her spring live event titled Nakajima Megumi Spring Festival 2009 ~Mamegu Wasshoi! Haru Matsuri in Akasaka Blizt~ in July 2009.
It was announced in December 2013 that Nakajima will undergo an indefinite musical hiatus starting March 2014. She will release her last album titled "Thank You" and a live concert DVD/Blu-ray in February of the same year before taking a break to focus on her voice acting career.
Discography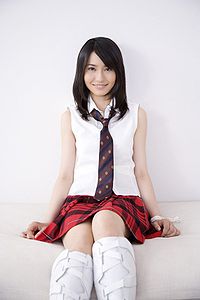 Studio Albums
Best Albums
Other Albums
Singles
Split Singles
Digital Downloads
Character Singles
Video Releases
Compilation / Soundtracks
Seiyuu Roles
Anime
OVA
Movies
Games
Radio
[2008.01-2008.03] RADIO MACROSS
[2008.04] Macross F ○※△ (マクロスF○※△)
[2008.04-2008.06] Nakanaka Nakajima Megumi (なかなか中島愛)
[2009.02.27] Hayacon (ハヤコン)
[2009.06-] Nakajima Megumi no Shinkaron! (中島愛のシンカロン!)
External Links