Due to an influx of spam accounts getting through and joining the site, user registrations have once again been disabled until further notice as we work on a different solution.
Macross Frontier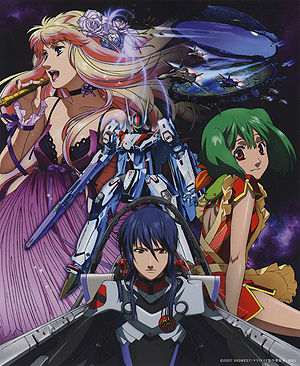 Macross Frontier or Macross F (マクロスF (フロンティア)) is a science fiction space drama anime series. It is the third TV series of the popular Macross universe and was released to celebrate the franchise's 25th anniversary. The anime is animated by Satelight studio, directed by Kawamori Shouji and music written by Kanno Yoko. It was aired every Thursday at 25:25 on MBS from April 3rd to September 25th, 2008. The anime is notable for its musical succession with all related CDs debuted on the Oricon weekly charts top 10 and made to the Oricon 2008 Top 100. In total, Macross Frontier related CDs sold around 1 million copies in Japan and its first volume is the best selling Blu-ray disc of 2008 in Japan.
Macross Frontier also was adapted into three manga series: "Macross F", "Macross F Chou Jikuu Uta Miko Ranka (マクロスF 超次空歌巫女ランカ; Super Dimensional Singing Priestess Ranka)" and "Macross F Dakishimete, Ginga no Hate Made. (マクロスF 抱きしめて、銀河の果てまで。; Hold on, Till the End of the Universe.)"; and a light novel series.
Story
In the year 2059, 47 years after the original Super Dimension Fortress Macross, on the Macross Frontier, Saotome Alto, a teenager boy meets Ranka Lee, a shy girl who want to become a singer and Sheryl Nome, the "Galactic Fairy" from Macross Galaxy who is on her galaxy live tour. While sailing in its long journey in search of a new habitable planet, the Macross Frontier was attack by extra terrest monsters called Varja, the accident involves the three of them and their wheels of fate begins to turn. The anime focuses on the war between humans and Varja to protect the Frontier and the love triangle between Alto, Sheryl and Ranka along with the mystical power carried by Ranka.
Staffs
Cast
Movie
A theatrical version was announced during the broadcast of the last episode of Macross Frontier. It was later revealed to have two part, re-telling the story in a different point of view. The first movie was titled Macross Frontier ~Itsuwari no Utahime~ (劇場版 マクロスF 虚空歌姫 ~イツワリノウタヒメ~; Macross Frontier the Movie ~The False Songstress~) and was scheduled to be released in Summer 2009 but was later pushed to November 21, 2009. It featured an edited story and new music. A second movie titled Macross Frontier ~Sayonara no Tsubasa~ (マクロスF ~サヨナラノツバサ~; Macross Frontier the Movie ~Wings of Farewell~) was also announced during the release of the first movie.
Music
Discography
Singles
Albums
Drama CD
DVD
Songs List
Movie
Macross Frontier ~Itsuwari no Utahime~
Ending Theme
Insert Songs
Episode List
Episode List
#
Title
Release Date
1
Close Encounter (クロース・エンカウンター)
2008.04.03
2
Hard Chase (ハード・チェイス)
2008.04.10
3
On Your Marks (オン・ユア・マークス)
2008.04.17
4
Miss Macross (ミス・マクロス)
2008.04.24
5
Star Date (スター・デイト)
2008.05.01
6
Bye Bye Sheryl (バイバイ・シェリル)
2008.05.08
7
First Attack (ファースト・アタック)
2008.05.15
8
High School Queen (ハイスクール・クイーン)
2008.05.22
9
Friendly Fire (フレンドリー・ファイア)
2008.05.29
10
Legend of Zero (レジェンド・オブ・ゼロ)
2008.06.05
11
Missing Birthday (ミッシング・バースデー)
2008.06.19
12
Fastest Delivery (ファステスト・デリバリー)
2008.06.26
13
Memory of Global (メモリー・オブ・グローバル)
2008.07.03
14
Mother's Lullaby (マザーズ・ララバイ)
2008.07.10
15
Lost Peace (ロスト・ピース)
2008.07.17
16
Ranka Attack (ランカ・アタック)
2008.07.24
17
Goodbye, Sister (グッバイ・シスター)
2008.07.31
18
Fold Fame (フォールド・フェーム)
2008.08.07
19
Triangler (トライアングラー)
2008.08.14
20
Diamond Crevasse (ダイアモンド・クレバス)
2008.08.21
21
Ao no Ether (蒼のエーテル; Azure Ether)
2008.08.28
22
Northern Cross (ノーザン・クロス)
2008.09.04
23
True Begin (トゥルビギン)
2008.09.11
24
Last Frontier (ラスト・フロンティア)
2008.09.18
25
Anata no Oto (アナタノオト; Your Sound)
2008.09.25
External Links