New user registrations have been disabled until further notice. If you would like to create an account, please message
Generasia on Facebook
. Thank you!
Melon Kinenbi Nippon Seinen kan Kouen '2005 Revue & Concert 'Murata san, Gokii'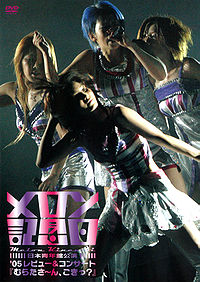 Melon Kinenbi Nippon Seinen kan Kouen '2005 Revue&Concert「Murata san,Gokii?」 (メロン記念日 日本青年館公演 '2005 レビュー&コンサート「むらたさ~ん、ごきっ?」) is a revue and concert DVD featuring Melon Kinenbi and Abe Natsumi. It was released on 2005-06-02 with catalog number TGBS-1429.
However, this DVD was released and sold only to members of the Hello! Project Fan Club. The DVD was recorded on Melon Kinenbi's fifth anniverary of their debut, on February 19th, 2005.
Performer
Abe Natsumi (安倍なつみ) - Natsumin
Track list
Story of 「Murata san,Gokii?」

The girls who go to a certain dance school.
Natsumin , Hitomin , Ayumi , Masae and Murata san.
The dream of five people of "Being spotlighted sometime on Big stage"
Natsumin is going to gather them up as leader at team, but their mind do not unite into one.
One day "Dance Battle" which competed by a team in a school was planned.
One team which can participate in a representative of "World Dance Grand Prix" Japan selection meeting from this school is chosen!
Do they show the best performance as expected?
Girls... aiming at "Top" any worlds any times...
The story's to continue "Watashi Ga Obasan Ni Nattemo" (Till I become an aunt)...
Opening ~Melon Kinenbi no Theme~ (OPENING~メロン記念日のテーマ~)
Kousui (香水)
Saa! Koibito ni Narou (さあ! 恋人になろう)
Chance of LOVE (チャンス of LOVE)
MC-1
Nikutai wa Shoujiki na EROS (肉体は正直なEROS)
Champagne no Koi (シャンパンの恋)
The Nimaime ~On My Way~ (THE 二枚目 ~ON MY WAY~)
MC-2
Solo medley (ソロメドレー)
MC-3
Saa, Sassoku Moriagete Iko ka~!! (さぁ、早速盛り上げて 行こか~!!)
Akai Freesia (赤いフリージア)

ENCORE

MC-4
Skip! (スキップ!) - Melon Kinenbi and Abe Natsumi

"Magic of Love" changed into "Shiroi Tokyo" occasionally.
Concert venue
2005-02-17 ~ 20 Tokyo / Nippon Seinen kan (Filming on the 19th)
External links