New user registrations have been disabled until further notice. If you would like to create an account, please message
Generasia on Facebook
. Thank you!
NIGHTMARE (band)
Nightmare (ナイトメア), sometimes transliterated as Naitomea, is a five piece Japanese rock band in the visual-kei scene. They formed somewhere in the Touhoku area in January of 2000 and has been currently celebrating their tenth anniversary, starting with the "10th Anniversary Album" GIANIZM, which was released at the very start of January 2010. In 2011, the band changed labels to avex trax. Nightmare has a side project alter-ego band called Sendai Kamotsu.
Members
Current Members
Former Members
Biography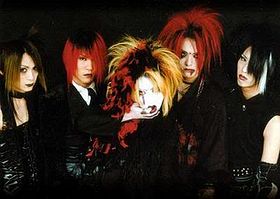 Formation and Indie Days
Nightmare was formed on Jauary 1st, 2000 by Sakito and Hitsugi. A majority of the other members were still in high school at the time. Hitsugi came up with the band name to match something that would scare their style of dressing. Ni~ya was invited by Sakito while Yomi was invited by Hitsugi. Soon after, Zannin would join the band. While the band was performing covers of songs from X Japan, LUNA SEA and other material along with performing at small house shows, Zannin left the band sometime in July for unknown reasons.
After the departure of their drummer Zannin, Ruka (ex-Luinspear) became their support drummer. Shortly after, in November the same year, he became an official member of Nightmare. With a majority of their demo-tapes such as "20010713" and "Crash!? Nightmare Channel" the material was later re-recorded and sped up; "Vice" has an identical sound to "Grave" from "20010713" except it was sped up and a heavier tempo was added. After Ruka joined, Nightmare left Sendai and started touring along with other bands as support. They released four demo-tapes and three limited venue singles before releasing their first official single on a record label.
Speed Disk
In October of 2001, Nightmare released their first ever single on a record label, "Hankouki", under the Speed Disk record label. Following the release of their first single, they released a 2nd press edition after having the first edition sell out. Four months later they released their second single, "Jiyuuhonpou Tenshiranman", which also came in a 2nd press edition. After releasing two singles, Nightmare released their first and only mini-album entitled Outlaw in November of 2002.
Nippon Crown
At the beginning of 2003, Nightmare signed with the Nippon Crown label and released two compilation albums, Gianizm ~Omae no Mono wa Ore no Mono~ in April and Gianizm ~Ore no Mono wa Ore no Mono~ which consists of their Gianism Best Ofs compilation. In August, the band released their third overall and first major single, "-Believe-". Three months later, the band released their first ever triple A-sided CD "Akane / Hate / Over". On December 25 of 2003, Nightmare released their debut full length album entitled Ultimate Circus. The album came out in two versions, a regular and limited. The only differences were album covers and the fact that the limited edition came in a slipcase jacket.
In 2004, Nightmare released three singles: "Varuna" in April, "Tokyo Shounen" in July and finally "Cyan" in October. Following the release of three singles, Nightmare released their second full length album, Libido. Later, the band went on a tour called love[CLIP]per. After their tour, the band released their eigth single, "Jibun no Hana", in April of 2005. Four months later they released "Яaven Loud speeeaker" and then "livEVIL". All three of the singles came with a music video and a karaoke version of the two songs included within the single, just as a majority of their older singles released under Nippon Crown label.
On February 22nd, 2006, Nightmare released their third full length album, anima, which came out in a limited and a regular edition. The limited edition came with a special booklet while the regular version came with a DVD that included the music video for track "Jashin to Bara". Later, Nightmare went on a tour, [Anima]lism, on June 28.
Move to VAP
After several albums under Nippon Crown and tours, Nightmare changed their label to VAP and released their eleventh single, "The World / Alumina". The single became widely known as it was used for the first nineteen episodes of the anime Death Note, "the WORLD" served as the opening while "Alumina" was the closing theme. On February 28, 2007, Nightmare released their first album under their new label entitled the WORLD RULER. The album came out in three editions, a CD+DVD, CD+Photobook and a CD only edition.
Eight months later Nightmare went on to release their first single in 2007 on June 6th entitled "Raison d'être" which was used as the opening for the anime Claymore. On October 3rd they released "Konoha". Shortly after on November 7th, Nightmare released the single "DIRTY" which was used as the opening for the anime Majin Tantei Nogami Neuro.
Sakito made a guest appearance as a voice actor on episode 17 of the anime as a pedestrian. All three of the singles appeared on their album Killer Show, which was released on May 21, 2008.
On January 30th of 2008, Nightmare released a best album entitled Nightmare 2003-2005 Single Collection which contained all of their singles under the Nippon Crown label. Shortly after, the band released their first live album, Kyokutou Symphony ~the Five Stars Night~ @ Budokan. After finishing their tour at Budokan, a special live only photo-booklet was available for pre-order which contained exclusive photos from the concert.
Announced in March, Nightmare would go on a tour called, NIGHTMARE - LIVE HOUSE TOUR 2008 - Killer Show which was active from late July to September. "Melody" was available to download for a limited time through Dwango on April 29th of the same year. Five months later the band released their 15th single, "Lost In Blue". The title track was used as the opening for Mouryou no Hako. Three months later, they released the single "NAKED LOVE" and the title track was also used for the closing of Mōryō_no_Hako. All three singles appeared on their sixth album, majestical parade.
Gianizm
To finish off 2009, Nightmare released "Rem_" which came out in three versions, one coming with a PV for the title track, another one including the B-side song, "love addict", and a CD only version. On January 1st, 2010 the band released GIANIZM which is a compilation of all of their songs from the "Gianizm"-related releases. The album was released to celebrate their 10 year anniversary as a band.
NIGHTMARE & SCUMS
On June 23rd of 2010, Nightmare released "a:Fantasia" which was released in three versions, a regular and two limited editions. As a majority of their singles, the regular edition came with an extra song and the limited editions came with exclusive video clips. Nightmare released Historical ~The Highest Nightmare~ on October 20th, 2010, to again, celebrate their 10 year anniversary. Along with changing their label to avex, on May 5th, 2011, Nightmare released "VERMILION." which as usual, came out in three types. [1] The band also released "Sleeper" on September 7th. Towards late November, Nightmare released their self-titled album, NIGHTMARE. Following the release of their seventh album, Nightmare went on a tour entitled, Nightmare Tour 2011-2012 Nightmarish Reality. On February 29 of 2012, the band released their 21st single, "mimic". The band also went on a tour entitled, To Mimic the Past which has six stops and was active May 3rd to the 18th. On August 20, Ruka was hospitalized due to body pain just before performing for their fan club, and had surgery. The single "Deus ex machina" was released on November 28.
Their eighth album, SCUMS, was released on January 30th, 2012 and including the songs "mimic" and "Deus ex machina". This also was released in three types, two CD + DVDs and a regular edition only, which contained two extra tracks.
To Be or Not to Be - Present
Nightmare released "Dizzy" on September 21st, "Rewrite" on January 8th, 2014 and their ninth album, TO BE OR NOT TO BE on March 19th, 2014. While recording "TABOO", Hitsugi fractured his bone along with METO from MEJIBRAY due to falling. [2] On June 25th of 2014, Nightmare released their 23rd single, "TABOO". The single came in three editions, two with DVDs including PVs and one with extra song entitled "SUPER BOOGER MAN".
On September 5th, Nightmare announced that they would take part in a Halloween party in Shanghai on November 1st along with MEJIBRAY, Royz and Lilith. [3] On November 19th, Nightmare stated that they would release a live DVD NIGHTMARE TOUR 2014 TO BE OR NOT TO BE: That is the Question. which would come with a special 36 page booklet and CD+DVD. [4]
Nightmare released their twenty-fourth single, "blur" on January 7, 2015 and went on a country-wide in-store tour ranging from, little HEARTS in various prefectures to Nagoya fiveStars and Tower Records Hiroshima, the event started on January 7th and ended January 23. The band went on to celebrate their 15 years as an active band by going on a 24 stop tour from April until June and while doing so they announced their new album, CARPE DIEM would be released on the 25 of March. Ruka held a party for his side project, THE LEGENDARY SIX NINE on August 6th and 7th at Shinjuku ReNY with two different band lineups. Also participating were band such as Sadie, BiSH and UNLIMITS.
Discography
Studio Albums
Best Albums
Mini Albums
Live Albums
Singles
Digital Singles
Demo Tapes / Other Singles
Video Releases
Concerts / Live
Music Video Collection
DVD Singles
Compilations / Other
Publications
Magazines
[2004.11.xx] Zy.[zi:] No.19 (Feature & Video)
[2009.11.xx] ARENA37 Degree December 2009 (Feature)
[2009.12.xx] Arena 37 Degree 2010 January Issue (Feature)
[2010.09.xx] FOOL'S MATE 2010 November Issue (Feature)
[2010.10.xx] FOOL'S MATE December Issue (Feature)
[2011.02.xx] ARENA37 Degree March 2011 Issue (Feature)
[2011.03.xx] ARENA37 Degree April 2011 Issue (Feature)
[2011.03.xx] SHOXX May 2011 Issue (Feature)
[2011.08.xx] SHOXX October 2011 Issue (Cover & Feature)
[2011.08.xx] FOOL'S MATE October 2011 Issue (Feature)
[2011.09.xx] ARENA37 Degree October 2011 Issue (Feature)
[2011.09.xx] SHOXX November 2011 Issue (Feature)
[2011.09.xx] ROCK STAR Vol.16 (Cover & Feature)
References
External Links
<br=/>