New user registrations have been disabled until further notice. If you would like to create an account, please message
Generasia on Facebook
. Thank you!
The Best (AI)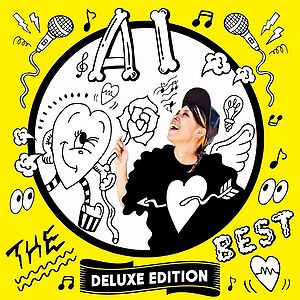 Artist

Album

THE BEST

Released

2015.11.25
2016.05.04 (2 CD Deluxe Edition)

Catalog Number

UPCH-20409
UPCH-20417 (2 CD Deluxe Edition)

Price

¥3,300 (DELUXE EDITION)
¥2,916 (tax included)
¥2,700 (without tax)

CD Tracklist
DELUXE EDITION CD2 Tracklist
Information
"THE BEST" is AI's third best album. The album is released to commemorate her 15th Anniversary as a singer. The album is certified Gold for shipment of 100,000 copies.
Oricon Chart Positions
| Mon | Tue | Wed | Thu | Fri | Sat | Sun | Week Rank | Sales |
| --- | --- | --- | --- | --- | --- | --- | --- | --- |
| - | 4 | 3 | 2 | 2 | 1 | 1 | 3 | 24,405 |
| 5 | 17 | 10 | 4 | 5 | 6 | 3 | 9 | 11,874 |
| 5 | 19 | 13 | 10 | 9 | 11 | 8 | 10 | 8,425 |
| 7 | 27 | 19 | 12 | 13 | 12 | 15 | 19 | 5,390 |
| 13 | 32 | 20 | 20 | 18 | 15 | 9 | 20 | 5,281 |
| 18 | 22 | 20 | 17 | 19 | 16 | 15 | 20 | 3,524 |
| 18 | 35 | 25 | 26 | 23 | 19 | 18 | 25 | 2,693 |
| 16 | 36 | 29 | 30 | 27 | 24 | 23 | 29 | 2,339 |
| 20 | x | x | x | 30 | 24 | 23 | 47 | 1,784 |
| 24 | x | x | 39 | 39 | 34 | x | 45 | 1,971 |
| x | x | x | x | x | x | x | 44 | 1,919 |
| x | x | x | x | x | x | x | 36 | 1,900 |
| x | x | x | x | x | x | x | 47 | 1,425 |
| x | x | x | x | x | x | x | 62 | 1,365 |
| x | x | x | x | x | x | x | 50 | 1,434 |
| x | x | x | x | x | x | x | 62 | 1,196 |
| x | x | x | x | x | x | x | 55 | 1,119 |
| x | x | x | x | x | x | x | 80 | 1,068 |
| x | x | x | x | x | x | x | 82 | 835 |
| x | x | x | x | x | x | x | 97 | 593 |
| x | x | x | x | x | x | x | 99 | 529 |
| x | x | x | x | x | x | x | 108 | 624 |
| x | x | x | x | x | x | x | 122 | 693 |
| 10 | 5 | 4 | 4 | 3 | 3 | 5 | 4 | 7,137 |
| 4 | 17 | 13 | 12 | 9 | 11 | 3 | 8 | 4,844 |
| 5 | 32 | 26 | 20 | 16 | 19 | 6 | 20 | 3,406 |
| 14 | x | 31 | 25 | 35 | 27 | 5 | 19 | 3,544 |
| 19 | x | 34 | 37 | 31 | 35 | 12 | 28 | 2,059 |
| 20 | x | 45 | 26 | 21 | 31 | 11 | 32 | 2,193 |
| 27 | x | 47 | 39 | 40 | 36 | 12 | 41 | 1,749 |
| 25 | x | x | x | x | 31 | 37 | 61 | 1,198 |
| 26 | x | x | 47 | x | 44 | 24 | 49 | 1,321 |
| x | x | x | x | x | x | x | 89 | 858 |
| x | x | x | x | x | x | x | 75 | 838 |
| x | x | x | x | x | x | x | 93 | 679 |
| x | x | x | x | 48 | 35 | x | 86 | 809 |
| 41 | x | x | x | 50 | 42 | x | 74 | 803 |
| x | x | x | x | x | x | x | 84 | 609 |
| x | x | x | x | x | x | x | 84 | 672 |
| x | x | x | x | x | x | 29 | 79 | 732 |
| 26 | x | x | x | x | 50 | 35 | 56 | 816 |
| 40 | x | x | x | x | x | 25 | 59 | 895 |
| 43 | x | x | x | x | x | 19 | 57 | 847 |
| x | x | x | x | x | x | x | 82 | 779 |
| x | x | x | x | x | x | x | 108 | 647 |
| 38 | x | x | x | x | x | x | 96 | 667 |
| x | x | x | x | x | x | x | 110 | 478 |
| x | x | x | x | x | x | x | 153 | 402 |
| x | x | x | x | x | x | x | 157 | 452 |
| x | x | x | x | x | x | x | 103 | 583 |
| x | x | x | x | x | x | x | 96 | 597 |
| 43 | x | x | x | x | x | x | 102 | 684 |
| x | x | x | x | x | x | x | 112 | 656 |
| x | x | x | x | x | x | x | 110 | 615 |
| x | x | x | x | x | x | x | 63 | 1,061 |
| x | x | x | x | x | x | x | 70 | 956 |
| x | x | x | x | x | x | x | 84 | 1,272 |
| 44 | x | x | x | 43 | 46 | 12 | 41 | 1,366 |
| 17 | 18 | 21 | 26 | 23 | 30 | 42 | 27 | 1,878 |
| 29 | x | x | 42 | 41 | 39 | 42 | 56 | 1,148 |
| 28 | x | x | x | x | x | x | 76 | 905 |
| 48 | x | x | x | x | x | x | 91 | 819 |
| 49 | x | x | x | x | x | x | 74 | 715 |
| 47 | x | x | x | x | x | x | 81 | 617 |
| x | x | x | x | x | x | x | 89 | 658 |
| x | x | x | x | x | x | x | 138 | 567 |
| x | x | x | x | x | x | x | 126 | 478 |
| x | x | x | x | x | x | x | 163 | 436 |
| x | x | x | x | x | x | x | 177 | 423 |
| x | x | x | x | x | x | x | 199 | 378 |
| x | x | x | x | x | x | x | 204 | 348 |
| x | x | x | x | x | x | x | 201 | 305 |
| x | x | x | x | x | x | x | 201 | 266 |
| x | x | x | x | x | x | x | 214 | 298 |
| x | x | x | x | x | x | x | 209 | 355 |
| x | x | x | x | x | x | x | 154 | 417 |
| x | x | x | x | x | x | x | 102 | 508 |
| x | x | x | x | x | x | x | 80 | 783 |
| x | x | x | x | x | x | x | 146 | 433 |
| x | x | x | x | x | x | x | 126 | 492 |
| x | x | x | x | x | x | x | 146 | 443 |
| x | x | x | x | x | x | x | 109 | 542 |
| x | x | x | x | x | x | x | 148 | 504 |
| x | x | x | x | x | x | x | 209 | 382 |
| x | x | x | x | x | x | x | 210 | 321 |
| x | x | x | x | x | x | x | 187 | 326 |
| x | x | x | x | x | x | x | 217 | 325 |
| x | x | x | x | x | x | x | 222 | 339 |
| x | x | x | x | x | x | x | 186 | 347 |
| x | x | x | x | x | x | x | 170 | 364 |
| x | x | x | x | x | x | x | 153 | 380 |
| x | x | x | x | x | x | x | 169 | 356 |
| x | x | x | x | x | x | x | 133 | 459 |
| x | x | x | x | x | x | x | 163 | 425 |
Total Reported Sales: 148,350*
Total Sales of 2015: 44,704 (#104 Album of the Year)
Total Sales of 2016: 81,312 (#52 Album of the Year)
Total Sales of 2017: 22,314*
External Links