Generasia would not be what it is today without the countless contributions by both staff and members alike! Thank you for all that you do!!
Main Page
Featured Article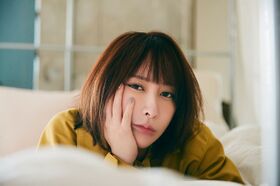 Aoi Eir (藍井エイル) is a Japanese pop singer signed to SME Records. She was born in Sapporo on November 30, 1988. She has loved singing since she was a child, and during high school she sang in a band she had formed. After graduating, she almost gave up on pursuing a music career to become a nurse. She decided, however, that did not want to give up on her dreams, so she began to upload videos of her singing onlineAoi was born in Sapporo on November 30. Her music break came after being discovered through the Japanese video sharing site Nico Nico Douga. She first released the song "Frozen Eyez" under the name Eir, which was included in a 2011 issue of the magazine LisAni!. She was then selected to sing the ending theme song for anime Fate/Zero, which was released as her debut single, titled "MEMORIA", on October 19, 2011.
Aoi's music has been featured in various anime series such as Sword Art Online, Kill la Kill, and Arslan Senki, as well as other television programs such as Rank Okoku. She has performed at various anime conventions in Asia, Europe, North and South America. She has cited her interest in anime, as well as artists such as Evanescence, Slipknot, and Do As Infinity, as influences in her career. In October 2016, following prolonged bouts of poor health, she announced an indefinite hiatus from musical activities following a two-day concert at the Nippon Budokan that November. In February 2018, it was announced that she would resume her activities later that year.
Her 22nd major single, "HELLO HELLO HELLO", is released this week on August 17th.
Oricon Weekly Rankings (Week 33)