Due to an influx of spam accounts getting through and joining the site, user registrations have once again been disabled until further notice as we work on a different solution.
Main Page
Featured Article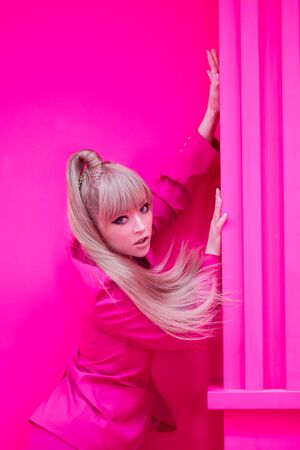 Hamasaki Ayumi (浜崎あゆみ) is a Japanese singer-songwriter, record producer, actress, model, spokesperson, and entrepreneur. By 2002, Hamasaki had earned the nickname "Empress of J-pop" due to her popularity in Japan and throughout Asia. Due to her success and relevance throughout her career, she is considered one of the top solo female artists of the Heisei era, both for her influence on various fashion trends and the music industry.
Born and raised in Fukuoka, Fukuoka Prefecture, Hamasaki moved to Tokyo at 14 in 1993 to pursue a career in singing and acting. In 1998, Hamasaki released her debut single "Poker Face" and debut major-label album A Song for ××. The album debuted at the top of the Oricon charts and remained there for five weeks, selling over a million copies. This rapid rise to fame is typically attributed, among other factors, to her unique style of lyric writing; this would continue to be a defining aspect of her work, listeners praising her poetic way of conveying relatable subjects. Her next ten albums shipped over a million copies in Japan, with her third, Duty, selling nearly three million. A Best, her first compilation album, further established her position as a crowning artist with more than four million copies sold in Japan.
After A Best, Hamasaki went on to experiment with her music style and lyricism, incorporating English into her work from Rainbow onwards. Later albums would range from electronic dream-pop to rock genres, with Hamasaki herself saying she does not feel tied to follow music trends, instead focusing on what she enjoys and wants to create "whether it is trendy or not". This perspective would continue to resonate with the public throughout her career, with her albums consistently placing in the top five of the Oricon charts to present day. In August 2010, the New York Daily News conducted a survey of the 20 richest female singers of all time-based on contracts, tours and inheritance based on lists from Forbes magazine. Hamasaki was the only Asian artist on the list, placing 7th and reportedly having made gains of $400 million (U.S.).
Hamasaki has sold over 60.94 million units as of 2019, making her the best-selling Japanese solo artist in history. Hamasaki has several domestic record achievements for her singles, such as the most number-one hits by a female artist (38); the most consecutive number-one hits by a solo artist (25), and the most million-sellers. From 1999 to 2010, Hamasaki had at least two singles each year topping the charts. Hamasaki is also the first female recording artist to have ten studio albums since her debut to top the Oricon, and the first artist to have a #1 album for 13 consecutive years since her debut. In addition to this, Hamasaki's remix albums SUPER EUROBEAT PRESENTS ayu-ro-mix and ayu-mi-x II Version Non-Stop Mega Mix, are recognized as two of the best selling remix albums of all time worldwide.
Her 18th studio album, Remember you, is released this week on January 25th.
Oricon Weekly Rankings (Week 04)