Due to an influx of spam accounts getting through and joining the site, user registrations have once again been disabled until further notice as we work on a different solution.
2NE1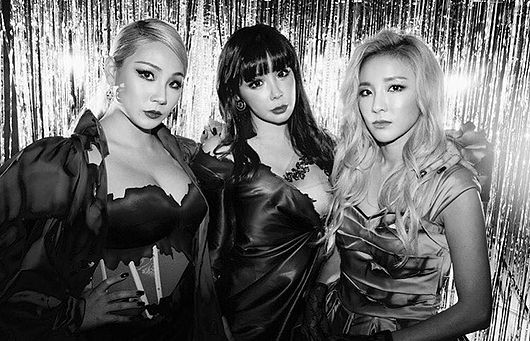 2NE1 (Korean: 투애니원 / Japanese: トゥエニィワン) was a Korean pop girl group created by YG Entertainment. Upon their debut they were described as the female BIGBANG by YG Entertainment. Their name stands for "New Evolution of the 21st Century".
Members
Former
Minzy (Lead Rapper, Vocals, Main Dancer, Maknae)
Information
Unofficial Debut
YG Entertainment revealed a new female group, dubbed the "female BIGBANG" by netizens, that consisted of Park Bom, Lee Chae Rin, Gong Minji, and Sandara Park on October 18, 2008. Yang Hyun Suk, the founder of YG stated: "The final decision is that they will debut next February after sorting out the various preparations for their debut. This new female group will consist of at least 4 members, if not 5, though we have not come to a final decision on that yet. But we are confident that they will be a strong group which will display a different type of charisma for fans." Their debut was announced to occur in April of 2009, yet was postponed to May 2009.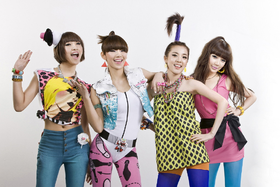 With their group name still undecided, YG Entertainment announced that the "female BIGBANG" would release a digital single with BIGBANG titled "Lollipop", which was used to promote the LG Cyon cellphones' lollipop model. Their official group name, "21" or "ToAnyone", was revealed on March 27, 2009. The meaning of their name was said to be the name of a group that "will produce music that is fresh like the age of 21. And like the number '21' in a game of Blackjack, it's meant to never lose." The CF for "Lollipop" began airing on March 27, 2009, however on March 30, 2009 their group name changed to "2NE1" due to another singer that debuted in 2005 having the same name. YG Entertainment expressed "We recently announced that the female BIGBANG group would be called '21', as in 'ToAnyone'. However, it was found that there was already a male singer that had debuted in 2005 with the name 'To Anyone'. Honestly, we had no idea that someone had already debuted under this name". Yang Hyun Suk clarified "YG's girl group was planning on being introduced as 2NE1 formally before their debut album went on sale, but we ended up announcing it because of this development. Therefore, we hope that there is no misunderstanding about this mishap. '2NE1' was supposed to mean 'ToAnyone'. However, there are other meanings besides that. Since there is already someone using 21 (To Anyone), we will no longer use that meaning". The new group name "2NE1" was said to stand for "New Evolution of the 21'st Century".
"Lollipop" took the #1 spot on music portals such as Dosirak, Bugs, and Cyworld. A YG Entertainment spokesman stated "Lollipop has drawn attention not only because of BIGBANG, but because of the interest in the 2NE1 group members, so therefore 'Lollipop' has become even more popular". The MV was released on April 2, 2009 and a set of promo photo's of the group was released on April 5, 2009.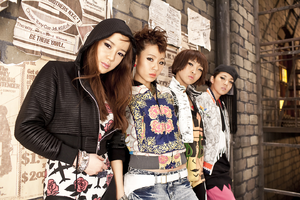 Debut
On April 29, 2009 Yang Hyun Suk announced on YG Entertainment's official website 2NE1's debut digital single was titled "Fire". A 20 second teaser of the song was released on April 30, 2009 as well as a set of promo photo's of Minzy. This release pattern continued with a 35 second teaser of the song released on May 1, 2009 with a set of promo photo's of Dara, a 50 second teaser with CL promo photo's on May 2nd, and a 60 second teaser with promo photo's of Bom on the 3rd. "Fire" was released on May 5, 2009 along with the music video which had two versions: the "Space" version and the "Street" version. Their debut performance of "Fire" was on May 17, 2009 at Inkigayo and they won their first "Mutizen" at Inkigayo on June 14, 2009. 2NE1 ended promotions for "Fire" on June 28, 2009 with their last performance held on Inkigayo.
Breakthrough With "I Don't Care" And Rise to Fame
"I Don't Care", a song described as a reggae RnB ballad, was announced as 2NE1's 2nd single. Their self titled debut mini-album cover and track list was revealed on June 29, 2009 and a set of promotional photo's of the group were released on June 30, 2009. Teddy and Kush, the producers of the song, confessed their hope to present a different side and image of 2NE1 to fans after their "Fire" promotional activity. A 1 minute teaser of the song was released on June 30, 2009 until the full version of the song was released by YG Entertainment on July 1st to combat the song from being leaked. YG Live, an online television show featuring YG Entertainment artist's, was unveiled on July 2, 2009. Through "YG Live" 2NE1"s first television show 2NE1 TV began airing on July 2, 2009.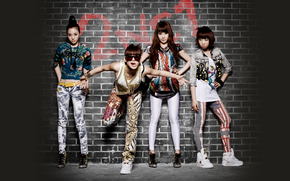 2NE1's debut mini-album garnered over 50,000 pre-orders. The tracks to their mini-album were released online on July 7, 2009 and the music video for "I Don't Care" was released on the 9th. 2NE1's promotional activity began on July 10, 2009 at Music Bank where they performed their lead single "I Don't Care", and "Pretty Boy". They won their first "Mutizen" for "I Don't Care" at Music Bank and continued their #1 streak by winning a total of 5 times on Music Bank and 3 times on Inkigayo and M! Countdown. Less than a month after its release 2NE1's mini-album topped the Korean "Hanteo" album charts, selling 80,000 copies.
During their promotional activities, Dara released her first digital single titled "Kiss" on September 6, 2009. It was announced that the other 2NE1 members would also release solo singles in the near future to unveil their talents and styles. YG Entertainment announced 2NE1 would promote their entire mini-album due to other tracks on 2NE1 1st Mini Album being well received. However, this promotional tactic never came into fruition. YG Entertainment reneged on their original plan and decided to end 2NE1's 1st mini-album promotions with "In The Club" due to the company wanting to focus on 2NE1's 1st full length album; which was later postponed. Their last performance was held at Inkigayo on September 13, 2009.
An official at YG Entertainment reported the possibility of 2NE1 holding a solo concert within the year; a feat no rookie girl group has ever accomplished. The idea was also not realized. Instead, Bom was the next member to debut with a solo digital single. "You And I", the title of Bom's solo track, was released on October 28th. Less than an hour after its release, the music video for Bom's song was unveiled. The track experienced major success, gaining the #1 spot on "Bugs", the #3 spots on "Dosirak" and "Mnet", and the #6 spot on "MelOn" barely an hour after its release; it later grabbed the #1 spots. Bom performed "You And I" at Inkigayo on November 8, 2009 and November 15th.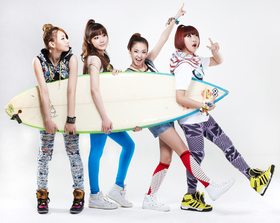 "Please Don't Go", a duet between CL and Minzy, was announced as the last of the 2NE1 solo singles. The track was released on November 20, 2009 and the duo debuted their performance on November 21st at the Mnet Asian Music Awards during 2NE1's special musical stage called "21 Jump Street". 2NE1 won the "Best Song" and "Best New Female Artist" awards at the Mnet Asian Music Awards; their first crucial accolades at a major music awards show. "Please Don't Go" rose to high positions on online music charts; stealing the #1 spot on "Mnet", "Bugs", "Dosirak", "Soribada", and "Cyworld". 2NE1 won the "Best New Artist" award at the 2009 Melon Music Awards show on December 16, 2009 and CL and Minzy ended their promotions for "Please Don't Go" at Inkigayo on December 20th.
First Album, Second Mini-Album, & Japanese Debut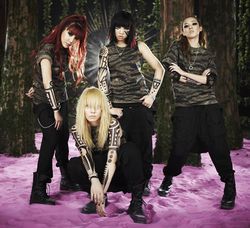 2NE1's fourth digital single "Nal Ddara Haebwayo" was suddenly announced on February 8, 2010. Hours after the announcement, the single was unveiled on online music sites with promotional photos accompanying its release. The track was used as the theme song for the Samsung Corby Folder CF, and reached the #1 spot on online music charts hours after its release. Due to the overwhelming response and popularity of "Nal Ddara Haebwayo", a spokesman for YG Entertainment confirmed that 2NE1 would film a music video for the song. It was released on March 11, 2010.
The first full album of the group, To Anyone, was released in September, 2010. YG Entertainment announced that three songs from it would be used as lead tracks, these being "Can't Nobody", "Go Away" and "Baksuchyeo". This kind of promotion made 2NE1 the first Korean artists to promote three songs at once. In October 31, 2NE1 started promoting a fourth lead track, "Apa (Slow)".
In February 2, 2011, the group debuted in Japan under avex with the release of the digital single "CAN'T NOBODY (ENG VER.)". The song was previously released in Korea on their first full album To Anyone. Their first Japanese album, 2NE1, was released on March 16. The album compiles their Korean debut-mini album of the same title, 2NE1 1st Mini Album, and three songs from their first Korean full album To Anyone.
The group was announced to appear in March 11 on the Japanese TV music show MUSIC STATION, however the show was canceled after the 2011 Sendai earthquake and tsunami. They would have become the first foreign artist to perform on it prior to a Japanese debut.
Park Bom's second solo single, "Don't Cry", was unveiled on April 21st. Afterher solo promotions were concluded, the group officially confirmed that a new single titled "Lonely" would be released on May 12th. The song achieved a perfect all-kill on music charts. The music video also garnered over 4 million views over the course of four days. On June 24th, they released the single "Naega Jeil Jal Naga". The song went on to become the 4th most downloaded single of the year in South Korea. The song also achieved a perfect all-kill and was awarded the "Song of the Year" award at the Mnet Asian Music Awards. Their next single, "Hate You", was released the following month, and immediately following the single was the release of their second mini-album, 2NE1 2nd Mini Album, and the final promotional song "Ugly". Promotions for the mini-album officially concluded in late August. Following the end of promotions, their first sold-out solo concert at the Olympic Hall in the Chamsil Olympic Park was held on August 26th, 27th, and 28th in Seoul.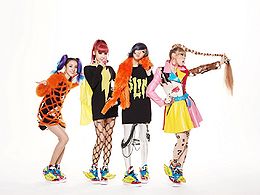 After concluding Korean promotions for their second mini-album, the group released various singles throughout the summer of 2011, including Japanese versions of "Naega Jeil Jal Naga", "Hate You", and "Lonely", leading up to their official debut in Japan in September 2011. Their mini-album, a Japanese version of their second Korean mini-album titled Nolza, debuted at #4 on the Oricon charts. They began their Japanese debut tour 2NE1 First Japan Tour – NOLZA on September 19th at the Yokohama Arena. Altogether, 2NE1 held six concerts for their first tour at three locations, including Yokohama Arena, Kobe World Commemoration Hall, and Chiba's Makuhari Messe Hall. Following their mini-album, the group released their first official Japanese single, a Japanese version of "Go Away", on November 18th.
MTV Iggy's Best New Band & Japanese Promotions
In October, MTV Iggy held a global competition, in which ten bands from all around the world competed in a voting competition for the title of "Best New Band". With their song "Naega Jeil Jal Naga", 2NE1 were crowned winners of the title on November 10, 2011, making this their first US Award. They performed at Times Square in December to accept the honor. At the end of 2011, 2NE1 was also nominated for the Japan Record Award for "Best New Artist", but lost to the Japanese girl group Fairies.
On March 28, 2012, 2NE1 released their first full-length Japanese album titled COLLECTION along with their second Japanese single "SCREAM", which was their first original Japanese release. The album includes Japanese remakes of their Korean songs such as "Sarangeun Ayaya", "Fire", and "I Don't Care", and a cover of Madonna's 1984 hit song "Like A Virgin".
The group and their fellow label-mates BIGBANG were invited to perform for the first time at 2012's Springroove festival in Japan alongside some of the top American and Japanese hip hop artists. The group also collaborated with Japanese hip-hop group m-flo for the song "She's So (Outta Control)", which was featured on the artist's sixth studio album Square One. 2NE1 performed at the 2012 MTV Video Music Awards Japan, which took place on June 23 at the Makuhari Messe, to conclude initial Japanese promotions. They also won the "Best New Artist Video" award for their song "Naega Jeil Jal Naga". The group served as the public speakers for the 59th Cannes Lions International Advertising Festival in France in the same month, along with the nation's top advertising agency Cheil Worldwide, after having been picked as the favorite K-pop group by French Hallyu fans. The seminar they gave was titled, "Korean Wave Through Digital Wave."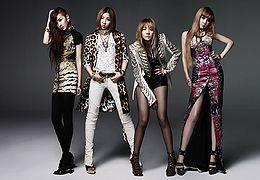 Korean Comebacks & World Tours
The group made their official Korean comeback on July 5 with "I LOVE YOU". They also announced their first world tour, the New Evolution World Tour would start off in Seoul on July 28. Their U.S. leg of the tour took place in August at the Nokia Theatre in Los Angeles and the Prudential Center in New Jersey. The group also appeared alongside Nicki Minaj and other artists including Big Sean and athlete Derrick Rose to promote their own line of Adidas, marking their first entrance into American pop culture. The full video features them dancing in the heart of Tokyo having an impromptu concert for surprise fans.
In December, 2NE1 and BIGBANG made MTV Style's list of "Best Band Style of 2012". The two YG Entertainment groups are the only Asian artists to make the list of ten.
On March 14, 2013, the group released a full version of an English single "Take the World On", which was a collaboration with American singer will.i.am. The song had previously been used in an Intel Ultrabook commercial. On April 16, the group collaborated with will.i.am on a second song called "Gettin' Dumb". The song was featured on will.i.am's second album #willpower.
In early May, YG Entertainment released a teaser image with the caption "Who's Next? 2013.05.28". The website "2NE1Loves.com" was launched and contained promotional teaser images and video teasers. The project was revealed to be 2NE1 Loves Shinsegae, an endorsement for a department store and brand Chrome Hearts.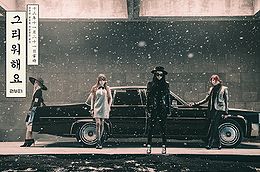 2NE1 began releasing singles leading up to their second Korean album, starting with the single "Falling In Love" on July 8th. The second single, "Do You Love Me", was released online on August 7th and the third single, "Geuriwo Haeyo", was released on November 21st. Prior to their comeback, the group appeared on an episode of The Bachelor in January 2014 and appeared on the finale for America's Next Top Model. The group's second studio album, CRUSH was released on February 26th. The album sold 5,000 copies in four days in America, making it chart at #61 on the Billboard 200 , setting a new U.S. record for "Highest Charting and Best Selling K-Pop Album", beating other big groups like Girls' Generation and BIGBANG. On June 26, they released the Japanese version of CRUSH which charted at #2 on the Oricon Daily Album Chart. The group had their fourth concert tour during the year, AON: All or Nothing. It included stops in China, Singapore, Taiwan, Thailand, Philippines, Japan, Malaysia and Indonesia. From March to October, they performed a total of twenty concerts across 16 cities. The tour received a total of 180,000 attendees. Their previous single, "Naega Jeil Jal Naga", was released on December 11 in the U.S. under Capitol Records. On December 18, their song "Neo Anim Andwae" was crowned "Song of the Year" by MTV Iggy.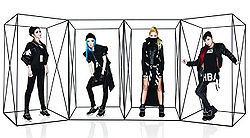 The group continued to achieve success at the end of 2014 in both South Korea and America. CRUSH was the only record by an Asian artist to make it to Fuse TV's "40 Best Albums of 2014", and named the "#1 Best K-Pop Album of 2014" according to Billboard, ranking #9 for Billboard's World Artist and #11 for World Album. Tracks in CRUSH have been downloaded over 5.2 Million times in South Korea, making 2NE1 the most downloaded girl group of the year. 2NE1 also won "Best Female Group" and "Top 10 Artist" awards at SBS Gayo Daejeon.
Group Hiatus, Individual Activities, Minzy's Departure, & Disbandment
2015 saw the members explore individual activities. Dara re-established her acting career throughout the year through web-dramas and television dramas. Minzy opened a dance school by the name of "Millennium Dance Academy". CL further embarked on her solo career aspirations in America and released "HELLO BI+CHES" on November 21 as a teaser for her later to be released mini-album.
The group's only activity in 2015 was a surprise performance at the 2015 Mnet Asian Music Awards in Hong Kong. After CL's performance of her solo singles "Nappeun Gijibae" and the newly released "HELLO BI+CHES", all members reunited to perform their hit songs "Fire" and "Naega Jeil Jal Naga". The performance is now the most-viewed MAMA performance by a girl-group. The surprise MAMA appearance was applauded and as a result, was listed as one of the best performances of 2015 by Fuse.
Despite not having made a comeback, 2NE1 nonetheless was the 16th most re-blogged K-Pop group on Tumblr for 2015. Additionally, both 2NE1 and CL were given a nod by Spotify in their "Year in Music" twitter campaign for each achieving over one million listeners by being played a "staggering" 165 years worth when combined. They also won China's "2016 Korea First Brand Grand Prize" award for Top 10 Most Anticipated K-Stars of 2016.
On April 5, 2016, YG Entertainment confirmed that Minzy had left the group. 2NE1's contract expired on May 5th, and Minzy was the only member who did not re-sign. The remaining three were expected to make a comeback during summer, however, on November 25, 2016, YG Entertainment announced the disbandment of the group. Members CL & Sandara signed a solo contract with the agency.
On January 5, 2017, it was announced the group would release one final track, aptly titled "Annyeong", on January 21st to say a proper farewell to their fans.
Trivia
Official Fanclub: Blackjack (Korea) / Blackjack Nolza (Japan)
Official Color: Hot Pink
Korean Discography
Albums
Live Albums
Mini-Albums
Digital Singles
Video Releases
Thai Discography
Digital Singles
Japanese Discography
Albums
Mini-Albums
Best Albums
Live Albums
Singles
Digital Singles
Video Releases
Other Video Releases
Compilations / Other
English Discography
Digital Singles
Compilations / Other
Filmography
Movie
Television
Photobooks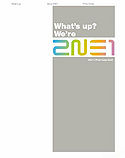 [2012.07.26] What's up? We're 2NE1
Endorsements
Awards
Music Awards
[2009.05.01] Cyworld Song of the Month of April - "Lollipop"
[2009.06.01] Cyworld Song of the Month of June - "Fire "
[2009.06.01] Cyworld Rookie of the Month for June
[2009.08.01] Cyworld Song of the Month of July - "I Don't Care"
[2009.08.20] 35th Cyworld Digital Music Awards - Song of the Month ("Lollipop", "Fire"), Rookie of the Month
[2009.08.28] Mnet 20's Choice - Hot New Star, Hot CF Star (BIGBANG & 2NE1), Hot Online Song ("Fire")
[2009.09.19] 2009 6th Asia Song Festival - Best Asian Newcomer's Award
[2009.11.11] 2009 Style Icon Awards - Female Artist Hot Icon Award
[2009.11.21] Mnet Asia Music Awards - Song of the Year ("I Don't Care"), Best Female Newcomer, Best Music Video ("Fire"), Music Portal MNet
[2009.xx.xx] Mnet's Online Download Chart - Artist of the Year
[2009.12.16] MelOn Music Awards - Best New Artist, Top 10
[2009.xx.xx] 2009 Rhythmer Award - R&B Artist of the Year, Rookie of the Year
[2009.xx.xx] Vietnam's 2009 Yan Online Awards - Most Favorite Album [K-Pop Category] (2NE1 1st Mini Album), Break Through Artists [K-Pop Category]
[2010.03.01] 2009 Cyworld Digital Music Awards: Best Artist, Best Song ("I Don't Care"), Best Newcomer, Best 10
[2010.09.01] Cyworld Song of the Month of Sept - "GO AWAY"
[2010.11.17] 2010 Style Icon Awards - Female Artist Hot Icon Award
[2010.11.28] Mnet Asian Music Awards - Artist of the Year, Album of the Year (To Anyone), Best Female Group, Best Music Video ("CAN'T NOBODY")
[2010.12.15] MelOn Music Awards - Album Of The Year (To Anyone), Top 10
[2011.12.12] MTV Iggy "Best New Band in the World"
[2012.12.14] MelOn Music Awards - Top 10
[2013.01.16] 27th Golden Disk Awards - Digital Bonsang
Records
| | |
| --- | --- |
|    †    | Indicates a now formerly held record |
Albums/Releases
[2014] Billboard: Highest-charting K-pop album on the Billboard 200 – CRUSH (#61)†
Awards
[2009] Fastest girl group to win a Daesang (188 days)†
TV Music Shows
[2010.09.24] KBS Music Bank #1
[2010.10.01] KBS Music Bank #1
[2010.10.10] SBS Inkigayo #1 (First artist that won 4 Consecutive Mutizen at SBS Inkigayo)
External Links