Due to an influx of spam accounts getting through and joining the site, user registrations have once again been disabled until further notice as we work on a different solution.
Angela Aki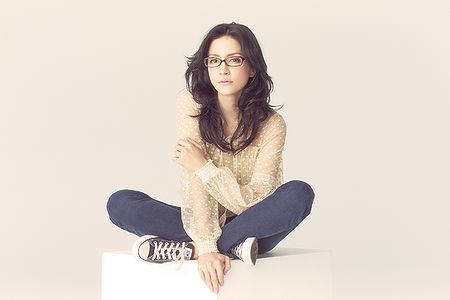 Angela Aki (アンジェラ・アキ) debuted mid-2005 with the single "HOME", despite releasing two indies albums prior to this. Her music is laid back and acoustic, much like Sarah McLachlan. She was picked by Uematsu Nobuo to perform the Final Fantasy XII theme song, entitled "Kiss Me Good-Bye".
Profile
Name: Angela K. Aki (アンジェラ・アキ)
Real Name: Aki Kiyomi Angela (安藝 聖世美 アンジェラ)
Birthdate: September 15, 1977
Birthplace: Itano, Tokushima Prefecture, Japan
Blood Type: A
Family: Angela has a sister, Aki Kyla, who is one year younger than her and also attended GWU.
Ethnicity: Half Japanese from her father and half Italian-American from her mother.
First CD She Bought: Miyazawa Rie's Dream Rush
Favourite TV Show: sakusaku
Favourite Food: Tofu
Most Hated Thing: Mayonnaise
Favourite Songs to Sing in Karaoke: Georgia on My Mind, Fuyu Geshiki
Favourite Artists: Alanis Morissette, Ani DiFranco, Ben Folds, Coldplay, Fiona Apple, Janis Ian, Joni Mitchell, Kanye West, Macy Gray, Sarah McLachlan, Shiina Ringo, The Smashing Pumpkins, TLC
Information
Early Life
Angela Aki's heritage is extremely mixed, as her father is Japanese and her mother is half Italian and half American. To add to her already multi-cultural heritage, she was born in Japan and raised in Hawaii, and was a very musical child. She is reported to have shocked her mother when she was very young by humming a tune that her mother had just sung in perfect tune. She began by learning classical piano at three years old, but also learned how to play the violin, guitar later and drums later on. In late 1992 when Angela was 15, she moved away from Japan and set up residence in Hawaii, where she went to high school. Angela won a $2,500US scholarship from her high school (Iolani School) in 1996.
Angela went on to study at George Washington University, Washington, D.C., and combined International Affairs and Jazz Studies as some of her subjects. While studying there, she remained musically active, even being the opening acts for artists such as Ricky Martin, Judy Collins and Sixpence None the Richer. She even performed at Al Gore's Christmas party once. In January 2000, while still there, Angela released an American indies album entitled These Words, which was sung entirely in English. Though this album has become increasingly rare to find, it would most likely to be found in Virginia or Hawaii. She later graduated in May 2000.
Angela held her showcase live at the Luna Park Grille in Arlington, Virginia, on 29 November 2001; and was credited as 'Angela Aki and her band'. Later on in 2001, she also held a live in Washington D.C., and was overheard by a Japanese CM producer called K, who asked her if she were able to sing for a commercial. She accepted, and in early 2002 a cover of Jimmy Scott's song New Day for the Yakult 400 CM.
Japanese Debut
In 2005, Angela started to release music again. She re-debuted in Japan under the indies label Virgo Music, with an indies mini-album entitled ONE. This time, however, it was sung mostly in Japanese and released in the Japanese market. The album reached #2 on the HMV Indies Chart. It is said that this album is what caught Uematsu Nobuo's attention and made him offer for her to perform the theme song for the up and coming Final Fantasy XII game. Angela's appearance as the theme song artist was announced at the Square Enix 2005 Stage Show in late July 2005. The title was announced as Kiss Me Good-Bye, and was performed solo by Angela at the Stage Show. She was shown singing and playing the piano solo on stage. Angela wrote the lyrics for both versions of this song; the Japanese version for the regional release as well as the English version for the international release. However, Uematsu Nobuo composed the song.
In the last half of in 2005, Angela debuted with her first major single under Sony, entitled HOME (and released one day before her birthday). Despite the single reaching a low position at #38, it charted for a surprisingly long 13 weeks. After the release of this single, nothing was heard from her until late November in which her next single, Kokoro no Senshi, was announced and would be released in late January. Kokoro no Senshi was released as in two pressings; a first press limited edition which came with an exclusive DVD that contained the music video for Kokoro no Senshi as well as the premiere showcase for Final Fantasy XII (backed by Angela Aki singing the English version of Kiss Me Good-Bye). This second single faired much better on Oricon charts; reaching an exceedingly higher position of #13.
Her third single, Kiss Me Good-Bye, was released on March 15, 2006. The single, due to the extreme hype from its Final Fantasy tie-up, debuted at #6 on Oricon charts. This position is higher than previous theme songs', such as Faye Wong's Eyes on Me and Rikki's Suteki da ne, though not as high as Koda Kumi's "real Emotion / 1000 no Kotoba".
It was announced on the first of May, 2006 that Angela would be signed to Tofu Records in the US (a firm to expose Japanese Sony artists in the US, mostly featuring on Sony artists that make theme songs for anime). Her first Tofu records release was a modified version of her Kiss Me Good-Bye single released on the 16th of May (it featured Eyes On Me instead of Aoi Kage. This release is to tie in with Angela's feature at the Chicago concert of PLAY! A Video Game Symphony on May 27th. The day before, Angela will feature at a signing session at the Tower Records N. Clark Store in Chicago.
Despite rumours that Angela's debut album would be released after Kiss Me Good-Bye, it was announced that Angela would release her fourth single, This Love. It replaced Nakashima Mika's single CRY NO MORE as the third ending theme to the anime BLOOD+. The single reached the same level of success as her former single, Kiss Me Good-Bye, by reaching #6 on the charts. When both singles stopped charting, their totals were less than 6,500 difference.
Two weeks after the release of the This Love single, Angela's debut album Home was released. The album's recording finished on the 19th of April, and was released on July the 14th. The album reached an astounding #2 on Oricon charts, selling 120,000 units in it's first week. Interestingly, if the album had been released a week or two before, it would have debuted at #1, this is because of Utada Hikaru's release of her long awaited fourth album, ULTRA BLUE.
Angela's next single, Sakurairo, released on March 7th, 2007, is a single commemorating her first Budoukan live (a goal that she had set for herself). Featured on this single is On & On, which was used as the theme song to the 2006 remake of the movie Inugami-ke no Ichizoku.
Setlist Tracks
Angela Aki has held a great number of concerts; though many of the songs that she has played during these concerts have been tracks that do not appear yet on any release of hers. These tracks are:
32 Flavors (Ani DiFranco cover)
Ai no Hana (愛の花; A Flower of Love)
Angel (Sarah McLachlan cover)
Black Bird (The Beatles cover)
Christmas Song
Constantly (English; performed 2000)
Dragonflies (English; performed 2000)
Dream
Feels Like Angels (English; performed 2000)
Higher (English; performed 2000)
Ichido Dake (一度だけ; Only Once)
Let's Get Naked (English; performed 2000)
Like a Virgin (Madonna cover)
Livin' on a Prayer (Bon Jovi cover)
Louisiana 1927 (Randy Newman cover)
Kirei na Uso (きれいな嘘; A Beautiful Lie)
Nakeba Ii (泣けばいい; It's Okay to Cry)
New Day (2002 CM song)
Not fine
Ocean's Blue (English; performed 2000)
Parting Gift (Fiona Apple cover)
Perfect Day (English; performed 2000)
Pick Me Up (English; performed March 2002)
Poughkeepsie
Say Goodbye (Eva Cassidy cover)
Soul For Sale
Teach the Boy a Lesson (English; performed 2000)
Train-Train (The Blue Hearts cover)
When the Lights are Low
White Lie
Yah Yah Yah (CHAGE & ASKA cover)
You're Not Coming Back (English; performed 2000)
Discography
Studio Albums
Best Albums
Cover Albums
Mini-Albums
[2005.03.09] ONE (indies)
Singles
Digital Singles
Video Releases
Other Video Releases
Compilations / Other
Filmography
TV Shows
[2012] Angela Aki's SONG BOOK in English
Publications
Band Scores
Books

[2012.07] Angela Aki "BLUE" Documentary Book
Magazines
[2010.04] Barfout! (Cover & Feature)
Trivia
Angela appeared as an extra in a documentary entitled, Doubles: Japan and America's Intercultural Children in 1995.
Angela's sister Kyla is also a good pianist, and also was in the same a cappella group as her.
Angela and Ito Yuna attended the same Japanese language school.
External Links