New user registrations have been disabled until further notice. If you would like to create an account, please message
Generasia on Facebook
. Thank you!
Lee Hyori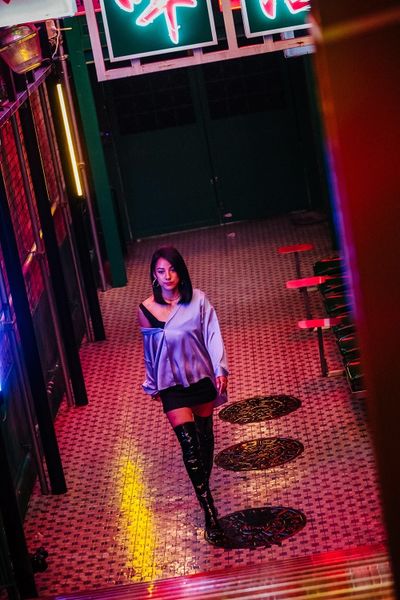 Lee Hyori (이효리, also romanized as E Hyo Ri / Hyolee / Hyo Lee) is a Korean pop singer, MC, CM model and actress currently under ESteem Entertainment. She made her debut as the leader and sub vocalist of the girl group Fin.K.L and successfully debuted as a solo artist with her album STYLISH...E hyOlee after Fin.K.L unofficially disbanded. Currently she is one of the highest paid female singers in South Korea. She also promoted as LindaG (린다G) on the project group SSAK3 and as Chun Ok (천옥) on Refund Expedition.
Profile
Information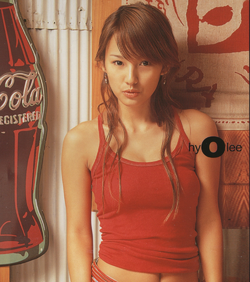 Fin.K.L Years, Solo Debut
Lee Hyori began her career as the leader and sub vocalist for the Korean pop girl group Fin.K.L. She was the last to join after being discovered in the mall taking sticker pictures with her friends, and the group debuted in May 1998 with their first single "Blue Rain". Fin.K.L experienced wide popularity, multiple number one hits, won various accolades on popular South Korean music awards, and are considered one of the most successful South Korean girl groups of all time. However, after they released their fourth studio album Forever in 2002, group activities for Fin.K.L ceased and the members began pursuing solo careers without the announcement of the group disbanding.
Lee released her first solo studio album STYLISH...E hyOlee on August 13, 2003 and used "10 Minutes" as the lead single. The year 2003 was dubbed "The Year of Lee Hyori" by South Korean media, and the singer won various awards including three of the four Daesang's at the 2003 Seoul Music Awards. According to South Korea's Music Industry Association, STYLISH...E hyOlee sold 144,182 copies in 2003 and in 2004, Lee's debut album had sold 153,590 copies with the album still being purchased.
In 2005 DSP Entertainment produced a drama mini-series titled Three-Leaf Clover which was broadcast on SBS and starring Lee as the series' main character. However, promising expectations for the drama fell short as the viewer ratings barely exceeded 10 percent; Three-Leaf Clover ended after 16 episodes and Lee's acting skills were criticized.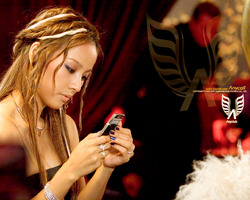 2nd Studio Album, Plagiarism Scandal
On February 2, 2006 Lee released her second studio album Dark Angel and used "Get Ya" as the lead single. However, plagiarism allegations were raised after similarities between "Get Ya" and American singer Britney Spears's song "Do Somethin'" were noticed. Lee and DSP Entertainment decided to stop using the song due to the negative attention it received from the plagiarism accusations and Universal Music Publishing Korea, the owners of Spears' song, filed a complaint. She began promoting the album with her second single "Shall We Dance?" until promotional activities ended, but album sales for Lee's album suffered--setting a record new low of only 30,000 copies being sold for the singer. "Straight Up" was used as the third single from the album but was not promoted.
In November 2006, Lee switched to the Mnet Media entertainment agency for a three year contract. The contract was an agreement between the singer and Mnet Media for the company to represent her exclusively and she was reportedly paid ₩2.2 billion won, making South Korean history by becoming the highest paid female singer in Korea.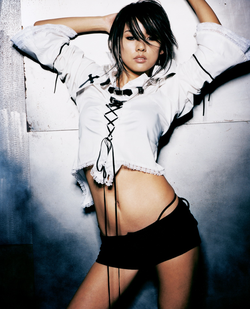 Lee signed one of the country's highest paying one year contracts with Samsung Electronics, making it her third year modeling for Samsung's phones. She released her fourth digital single "Anystar" on December 26, 2006, and the commercial featured popular actor Lee Jun Ki and then unknown 2NE1 vocalist Park Bom.
Lee was cast in a special 130 minute one act musical drama titled If in Love...Like Them. The drama was divided into four parts of 45 minutes each, and on February 2007 she announced she would release her fifth digital single titled "Toc Toc Toc" that would be the soundtrack for If in Love...Like Them. On February 25, 2007 she performed all three songs from the single at Inkigayo. The single was later received a physical release on March 7, 2007 with a limited release of 30,000 copies and titled "If in Love...Like Them" after the drama. It was the best selling single of that month with 27,845 copies sold, but the Korean Broadcasting Committee deemed the drama could not air on South Korean television due to it violating advertising guidelines, such as using Lee's songs in the soundtrack and the drama having several scenes advertising the products of its sponsors.
However, the drama was broadcast on Japan's Fuji TV's CS Fuji channel. The network also invited Lee to Japan to help promote the show and gave the singer VIP treatment. Mnet Media stated "When Lee visited Japan in the past, she had some private time for shopping and other things, but that doesn't seem possible this time. This kind of exceptional treatment shows Fuji TV's expectation for Lee". The singer primarily remained active as an MC and a participant in variety programs such Happy Together and Sang Sang Plus and in 2008, Mnet Media aired a reality program of Lee titled OFF THE REC. - HYOLEE. The show aimed to reveal her candid moments and the preparation for her third studio album and she was also cast in the first season of Family Outing.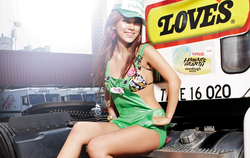 3rd Studio Album, U-Go-Girl
Lee released It's Hyorish on July 16, 2008 and "U-Go-Girl" was used as the lead single. The MV for "U-Go-Girl" provoked controversy with critics saying the music video plagiarized American singer Christina Aguilera's music video for "Candyman". The nurse that Lee portrayed in the video was also deemed too provocative, with some netizens taking issue with the nurse costume's plunging neckline. However, the song topped various online Korean music charts and according to the South Korean Music Industry, her album sold approximately 80,000 copies in 2008. "Hey Mr. Big" also charted high on online music charts, and the song was used as her second single.
On December 20, 2008 Lee held her first solo concert at the Jamsil Arena titled "Invincible Lee Hyori". Tickets for the gig sold out in five minutes upon the initial sale.
4th Studio Album, Second Plagiarism Scandal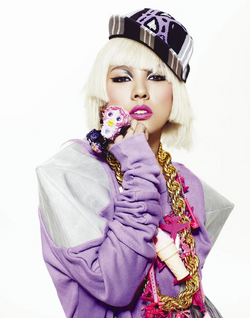 Lee confirmed on her official fan café that she finished recording for her 4th album stating "Everyone, finally after 8 months recording has finished. Now its time for me to start again—practice, music video, and first live performance. I'll have to work hard." A representative from Mnet revealed "We kept pushing the come back date so we can continue recording. The results are here and we finished recording on the 1st". The title of Lee's fourth album was revealed to be H-Logic and it was slated for an April 2010 release. She released the song and music video for "Geune" on April 1, 2010 as the first single however the track was not the lead single for the album; Mnet Media announced "Chitty Chitty Bang Bang" as the title track. H-Logic was delayed to be released on April 13, 2010 due to the tragic South Korean ROKS Cheonan (PCC-772) naval ship tragedy, and the album was leaked on April 11, 2010--Mnet Media released the album a day earlier than planned to combat the leak. The music video for "Chitty Chitty Bang Bang" was released on April 13, 2010 and H-Logic was released the same day.
Lee's promotional performances for the album began on April 16, 2010 at M! Countdown; she performed "I'm Back", "Chitty Chitty Bang Bang", and "Want Me Back". The singer later won the #1 spot on M! Countdown. Mnet Media also announced plans for Lee to release a repackage in June 2010 and to continue promotional activity for her fourth album until July 2010. However on April 21, 2010 Canadian blogger Zack Taylor reported on his blog Lee's song "Bring It Back" plagiarized indie Canadian pop group Cookie Couture's song "Boy Bring It Back". Through their official MySpace the group released an official statement on April 23, 2010 stating their lawyers were working on the case. Five other songs from Lee's album being "I'm Back", "Feel The Same", "Geune", "How Did We Get", and "MEMORY" were also accused of plagiarism which were composed by Bahnus. Mnet Media released a statement on April 26, 2010 stating the songs were demo's and guide tracks, much like Girls' Generation's song "Run Devil Run" was previously sung by American singer Kesha as a guide song. For "Geune" a representative stated there was no need to receive copyright approval due to the original song not having a title and the author was anonymous. However on June 21, 2010 Lee acknowledged on her official fan café that their is plagiarism on H-Logic.
Lee stated "It looks like its been a while since I wrote an entry here. After the release of my 4th album, many interrogations arose, it was frustrating for me and you must have been curious about these issues at some point. I've been asking myself whether I should tell you all of it or not, there were things to take into consideration, and after I figured it out, time has passed… and it took me some time to talk to you. It must have been frustrating for you as well, I'm truly sorry about that…When I was making the album, in the beginning, I received songs from Bahnus. When we released it, plagiarism issues were raised, there was something wrong. I , too, believed everything he told me, there was no way we could know. The company first received the songs from him, under his name, and we didn't suspect anything. But we kept moving forward, and words risen again, suspicion, artists saying that he wasn't the original composer of the songs, that he stole them and claimed these were his.
Finding the original producers of the songs was hard and it took some time to make sure everything we heard was the truth. We investigated him and we found out that the songs were not his. We know for sure that 2 songs out of the 6 songs that we recorded are not his and we already contacted the original composers. For the remaining songs we couldn't find the original creators, but the company is still looking into it and will take care of this matter. We will do what we have to and put that behind us and we will take moral responsibility. I wanted to release the album soon, it took me a long time to make it as I wanted to, and I also wanted to promote it for a long period until these issues are solved, but I can't do that anymore.
The truth is that for these problems to be solved, a long time is needed. These matters take time to be put behind. It's unfortunate but it appears that it will be impossible for me to lead successful album activities for now. I'm truly sorry for you who expected more from me and waited for something else… I've always been passionate when recording songs for my albums, although I went through a lot and experienced headaches. My heart aches, because I couldn't promise you something perfect, I've been constantly blaming myself. But instead of being helpless, I feel that it is my responsibility to step up and to take care of this. It's my responsibility to handle anything I do well. For putting you all through this with me, I apologize, once again to all of you. I want to always show you the best of me. I'll be working even harder to show you the best of me. I will show you more, the best."
Due to the plagiarism in H-Logic, Lee's promotional activity for the album ceased and the plans to release a repackage is shelved.
Discography
Albums
Singles
Digital Singles
DVDs
Collaborations / Others
Songwriting Credits
Filmography
Television
Dramas
Movies
Endorsements
Photobooks

[2004.07.12] HYOLEE Fascinated Scenes from Hawaii & Italy
Awards
[2002] KBS Entertainment Awards "Best Newcomer MC"
[2003] KBS Music Awards "Daesang"
[2003] SBS Music Awards "Daesang"
[2003] Seoul Music Awards "Daesang"
[2003] MBC 10 Best Singers Song Festival "10 Best Singers Award"
[2003] Mnet Music Video Festival "Best Music Video"
[2003] 18th Golden Disk Awards "Daesang"
[2003] KMTV Korean Music Awards "Singer of the Year", "KMTV Daesang"
[2003] MBC Entertainment Awards "Best Female Singer", "Best Dressed Woman"
[2003] Republic of Korea Video Awards "Best Female Singer Star"
[2007] Republic of Korean Broadcast and Advertising Festival "Best Female Model"
[2007] 1st Mnet 20's Choice "Women Best Style"
[2008] 2nd Mnet 20's Choice "Hot Style Icon", "Hot Musical Performance"
[2008] Mnet KM Music Festival "Best Dance Song", "Best Female Singer"
[2009] 3rd Mnet 20's Choice "Hot Body", "Hot Multi-Tainer", "Hot Style Icon"
[2009] SBS Entertainment Awards "Popularity Award", "Daesang" (with Yu Jae Suk)
TV Music Shows
External Links