Due to an influx of spam accounts getting through and joining the site, user registrations have once again been disabled until further notice as we work on a different solution.
SCANDAL Anime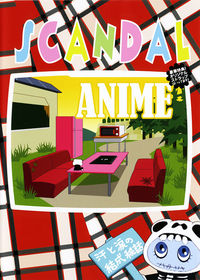 Artist

DVD

SCANDAL ANIME

Released

2010.09.18

Catalog Number

KTD-3015

Price

¥2,000

Tracklist
SCANDAL Tanjou (スキャンダル誕生 (スキャンダルはこうしてうまれた。真実度50%); SCANDAL's Birth, 50% True)
Vocal wo Sagase (ボーカルを探せ (憧れのあの人を探しに!!真実度0%); Searching for a Vocalist, 0% True)
Saa Renshuu da (さぁ練習だ (バンド結成したけど楽器できない。さぁ練習だ!真実度100%); Practicing, Can't Play Instruments, 100% True)
MAMI World (まみワールド (スペースレンジャーはこうしてうまれた!真実度?%); MAMI World, Space Ranger Is Born, ?% True)
Shiroten Debut (城天デビュー (初めての路上ライブ 真実度100%); Shiroten Debut, First Street Live, 100% True)
HARUNA no Yume (春菜の夢 (恋模様ができるまで 真実度ヒミツ%); HARUNA's Dream, Koi Moyou, Secret% True)
Tokyo Debut (東京デビュー (2007年初東京進出のはずが 真実度25%); 2007 Tokyo Debut, 25% True)
TOMOMI Nemurenai (ともみ眠れない (プレイボーイ(マボロシの曲)誕生 真実度ナイショ%); TOMOMI Can't Sleep, PLAYBOY's Creation, Secret% True)
Eh! (ええっ! (2008年アメリカ進出 真実度80%); 2008 American Advance, 80% True)
Himitsu no Jikan (ヒミツの時間 (DOLL生産 真実度シークレット%); Secret Time, DOLL Production, Secret% True)
Wasuremono (忘れ物 (海外進出を果たした彼女たち 真実度100%); Lost Item, Advancing Overseas, 100% True)
Major Debut (メジャーデビュー (祝!2008.10.22衝撃のメジャーデビュー 真実度120%); Successful Major Debut, 120% True)
Information
SCANDAL ANIME is the second DVD released by SCANDAL. It contains twelve anime episodes based on the band and their activities before their major debut. The episodes were originally posted on their official website. The DVD also came with a SCANDAL cell-phone strap. Because the DVD was only sold on their tour "SCANDAL TEMPTATION BOX TOUR 2010" ~YEAH! tte Iei!~ and online for a limited time at the Kitty Web Shop and the Sony Music Shop, its sales were not counted on the Oricon charts.