Due to an influx of spam accounts getting through and joining the site, user registrations have once again been disabled until further notice as we work on a different solution.
With Love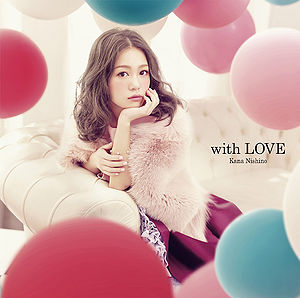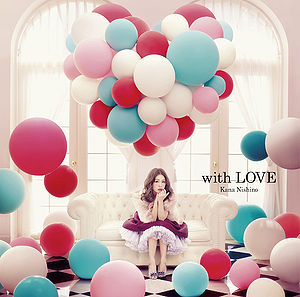 Artist

Album

with LOVE

Released

2014.11.12 (Japan)
2014.11.18 (South Korea)
2014.11.19 (Taiwan)

Catalog Number

SECL-1609/10 (Limited Edition)
SECL-1611 (Regular Edition)

Price

¥3,600 (Limited Edition)
¥3,100 (Regular Edition)

CD Tracklist
DVD Tracklist
Information
with LOVE is the fifth studio album released by Nishino Kana. It was released in two versions: a limited CD+DVD edition and a regular CD only edition. The album is certified Platinum for shipment of 250,000 copies.
Oricon Chart Positions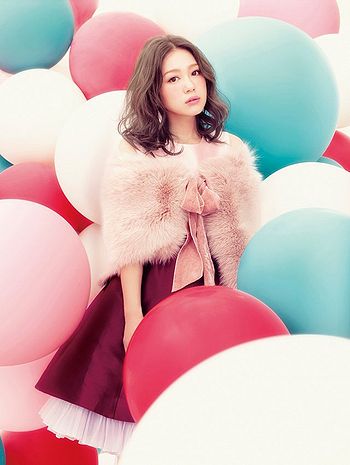 | Mon | Tue | Wed | Thu | Fri | Sat | Sun | Week Rank | Sales |
| --- | --- | --- | --- | --- | --- | --- | --- | --- |
| - | 1 | 1 | 1 | 1 | 1 | 1 | 1 | 100,111 |
| 1 | 6 | 3 | 3 | 2 | 1 | 1 | 2 | 37,444 |
| 1 | 7 | 5 | 2 | 2 | 2 | 1 | 2 | 28,491 |
| 3 | 17 | 11 | 5 | 5 | 4 | 4 | 8 | 15,266 |
| 4 | 17 | 10 | 10 | 9 | 7 | 5 | 10 | 11,182 |
| 5 | 20 | 13 | 8 | 7 | 3 | 5 | 9 | 9,471 |
| 8 | 11 | 3 | 8 | 8 | 6 | 7 | 8 | 10,478 |
| 6 | 6 | 6 | 5 | 5 | 5 | 5 | 6 | 9,173 |
| 5 | 12 | 10 | 9 | 8 | 8 | 11 | 9 | 5,116 |
| 6 | 21 | 15 | 10 | 13 | 11 | 12 | 11 | 4,284 |
| 10 | 35 | 29 | 23 | 22 | 16 | 16 | 26 | 3,548 |
| 15 | - | - | - | 27 | 23 | 18 | 37 | 2,665 |
| 17 | - | - | 28 | - | 25 | 9 | 32 | 2,353 |
| 24 | - | - | - | - | 30 | 24 | 40 | 1,809 |
| 27 | - | - | - | - | - | - | 61 | 1,360 |
| - | - | - | - | - | - | - | 70 | 1,342 |
| - | - | - | - | - | - | - | 96 | 1,003 |
| - | - | - | - | - | - | - | 87 | 816 |
| - | - | - | - | - | - | - | 97 | 857 |
| - | - | - | - | - | - | - | 131 | 712 |
| - | - | - | - | - | - | - | 119 | 621 |
| - | - | - | - | - | - | - | 138 | 519 |
| - | - | - | - | - | - | - | 135 | 504 |
| - | - | - | - | - | - | - | 189 | 431 |
| - | - | - | - | - | - | - | 114 | 603 |
| - | - | - | - | - | - | - | 92 | 592 |
| - | - | - | - | - | - | - | 85 | 600 |
| - | - | - | - | - | - | - | 87 | 589 |
| - | - | - | - | - | - | - | 129 | 551 |
| - | - | - | - | - | - | - | 108 | 500 |
| - | - | - | - | - | - | - | 116 | 453 |
| - | - | - | - | - | - | - | 145 | 443 |
| - | - | - | - | - | - | - | 203 | 392 |
| - | - | - | - | - | - | - | 134 | 473 |
| - | - | - | - | - | - | - | 126 | 508 |
| - | - | - | - | - | - | - | 118 | 518 |
| - | - | - | - | - | - | - | 128 | 625 |
| - | - | - | - | - | - | - | 113 | 629 |
| - | - | - | - | - | - | - | 132 | 541 |
| - | - | - | - | - | - | - | 84 | 664 |
| - | - | - | - | - | - | - | 119 | 528 |
| - | - | - | - | - | - | - | 152 | 542 |
| - | - | - | - | - | - | - | 148 | 496 |
| - | - | - | - | - | - | - | 112 | 515 |
| - | - | - | - | - | - | - | 175 | 462 |
| - | - | - | - | - | - | - | 143 | 463 |
| - | - | - | - | - | - | - | 220 | 356 |
| - | - | - | - | - | - | - | 206 | 319 |
| - | - | - | - | - | - | - | 214 | 291 |
| - | - | - | - | - | - | - | 257 | 300 |
| - | - | - | - | - | - | - | 297 | 254 |
| - | - | - | - | - | - | - | 290 | 232 |
| - | - | - | - | - | - | - | 145 | 486 |
| - | - | - | - | - | - | - | 174 | 409 |
| - | - | - | - | - | - | - | 242 | 357 |
| - | - | - | - | - | - | - | 234 | 340 |
| - | - | - | - | - | - | - | 228 | 341 |
| - | - | - | - | - | - | - | 241 | 347 |
| - | - | - | - | - | - | - | 206 | 495 |
| - | - | - | - | - | - | - | 167 | 433 |
| - | - | - | - | - | - | - | 198 | 325 |
| - | - | - | - | - | - | - | 248 | 260 |
| Year | Month | Month Rank | Sales |
| --- | --- | --- | --- |
| 2014 | November | 2 | 166,046 |
| 2014 | December | 8 | 46,397 |
| 2015 | January | 15 | 24,786 |
Total Reported Sales: 266,788*
Total Sales of 2014: 181,312 (#21 album of 2014)
Total Sales of 2015: 83,616 (#45 album of 2015)
Total Sales of 2016: 1,860*

External Links