It is thanks to each and every one of you that has made Generasia the largest resource for Asian media info. To our wonderful contributors, thank you!
DREAMS COME TRUE The Best! Watashi no Drecom
From generasia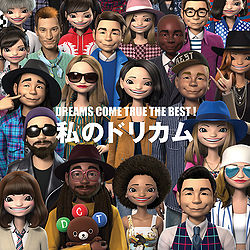 Artist

Album

DREAMS COME TRUE THE BEST! Watashi no Drecom (私のドリカム)

Released

2015.07.07

Catalog Number

UMCK-1577~9

Price

¥3400

CD1 Tracklist
LOVE
CD2 Tracklist
TEARS
CD3 Tracklist
LIFE
Information
DREAMS COME TRUE THE BEST! Watashi no Drecom is the seventh best album released by DREAMS COME TRUE. It comprises 50 fan favourites from their debut in 1989 to their 2014 studio album, ATTACK 25, across three discs. The album was remastered by Chris Gehringer of Sterling Sound, who has also worked with Katy Perry, Jay-Z, Rihanna and Lady Gaga. This album also includes a re-recorded version of Ano Natsu no Hanabi. First pressings came with a slipcase and an application lottery ticket for their WONDERLAND 2015 concerts. It was the third best-selling album of 2015, behind Arashi and Sandaime J Soul Brothers from EXILE TRIBE, selling 828,505 copies that year.
Oricon Chart Positions
| Mon | Tue | Wed | Thu | Fri | Sat | Sun | Week Rank | Sales |
| --- | --- | --- | --- | --- | --- | --- | --- | --- |
| - | 1 | 1 | 1 | 1 | 1 | 1 | 1 | 344,395 |
| 1 | 3 | 1 | 1 | 1 | 1 | 1 | 1 | 119,560 |
| 1 | 4 | 1 | 1 | 1 | 1 | 1 | 1 | 79,924 |
| 1 | 5 | 4 | 2 | 2 | 1 | 1 | 2 | 46,986 |
| 2 | 6 | 5 | 1 | 1 | 1 | 1 | 1 | 32,301 |
| 1 | 3 | 1 | 1 | 1 | 1 | 1 | 1 | 32,531 |
| 1 | 3 | 2 | 1 | 3 | 1 | 1 | 2 | 29,918 |
| 3 | 9 | 3 | 1 | 1 | 1 | 1 | 1 | 22,162 |
| 1 | 7 | 5 | 3 | 3 | 2 | 1 | 4 | 18,379 |
| 1 | 13 | 9 | 4 | 6 | 2 | 1 | 5 | 12,071 |
| 1 | 15 | 10 | 6 | 5 | 3 | 2 | 4 | 10,231 |
| 3 | 4 | 4 | 3 | 4 | 2 | 2 | 5 | 12,303 |
| 1 | 15 | 12 | 11 | 10 | 5 | 1 | 9 | 11,301 |
| 3 | 24 | 12 | 7 | 5 | 4 | 3 | 10 | 6,329 |
| 5 | 4 | 14 | 11 | 5 | 4 | 3 | 8 | 7,257 |
| 3 | 25 | 19 | 10 | 9 | 5 | 4 | 13 | 6,076 |
| 3 | 26 | 18 | 11 | 14 | 9 | 4 | 12 | 5,324 |
| 16 | 10 | 13 | 12 | 10 | 7 | 5 | 13 | 4,880 |
| 7 | 20 | 16 | 12 | 10 | 7 | 5 | 16 | 6,049 |
| 7 | 48 | 21 | 16 | 16 | 16 | 17 | 18 | 4,352 |
| 19 | 48 | 43 | 7 | 21 | 21 | 9 | 23 | 4,814 |
| 28 | x | 43 | 33 | 28 | 7 | 9 | 20 | 5,099 |
| 13 | 40 | 28 | 18 | 18 | 13 | 9 | 18 | 6,263 |
| 11 | 29 | 26 | 17 | 15 | 17 | 9 | 20 | 5,173 |
| 14 | 26 | 17 | 15 | 17 | 16 | 9 | 19 | 5,383 |
| x | x | x | x | x | x | x | 14 | 4,485 |
| x | x | x | x | x | x | x | 22 | 2,847 |
| x | x | x | x | x | x | x | 28 | 2,399 |
| x | x | x | x | x | x | x | 41 | 1,979 |
| x | x | x | x | x | x | x | 43 | 2,091 |
| x | x | x | x | x | x | x | 50 | 1,770 |
| x | x | x | x | x | x | x | 42 | 1,506 |
| x | x | x | x | x | x | x | 49 | 1,387 |
| x | x | x | x | x | x | x | 75 | 1,114 |
| x | x | x | x | x | x | x | 60 | 1,280 |
| x | x | x | x | x | x | x | 58 | 1,268 |
| x | x | x | x | x | x | x | 52 | 1,248 |
| x | x | x | x | x | x | x | 69 | 1,212 |
| x | x | x | x | x | x | x | 45 | 1,487 |
| x | x | x | x | x | x | x | 44 | 1,078 |
| x | x | x | x | x | x | x | 53 | 937 |
| x | x | x | x | x | x | x | 66 | 1,071 |
| x | x | x | x | x | x | x | 69 | 1,398 |
| x | x | x | x | x | x | x | 22 | 2,304 |
| x | x | x | x | x | x | x | 23 | 1,994 |
| x | x | x | x | x | x | x | 55 | 1,303 |
| x | x | x | x | x | x | x | 50 | 1,414 |
| x | x | x | x | x | x | x | 52 | 1,154 |
| x | x | x | x | x | x | x | 62 | 1,083 |
| x | x | x | x | x | x | x | 66 | 1,094 |
| x | x | x | x | x | x | x | 48 | 1,332 |
| x | 36 | 29 | 7 | 8 | 8 | 7 | 11 | 8,022 |
| 6 | 13 | 13 | 13 | 12 | 10 | 5 | 10 | 8,046 |
| 6 | 19 | 14 | 13 | 13 | 10 | 10 | 13 | 5,107 |
| 7 | 37 | 30 | 25 | 19 | 18 | 16 | 22 | 3,083 |
| 9 | 39 | 31 | 20 | 19 | 14 | 21 | 26 | 2,211 |
| 12 | 29 | 22 | 18 | 21 | 16 | 32 | 20 | 1,869 |
| 15 | 31 | 29 | 21 | 28 | 20 | 16 | 28 | 1,932 |
| 14 | x | 46 | 34 | 31 | 23 | 31 | 38 | 1,284 |
| 20 | 47 | 40 | 33 | 28 | 33 | 29 | 38 | 1,253 |
| 20 | x | 50 | 37 | 44 | 42 | 30 | 39 | 1,239 |
| 23 | x | x | 40 | x | x | 21 | 42 | 1,162 |
| 27 | x | x | x | x | x | x | 44 | 1,316 |
| x | x | x | x | x | x | x | 59 | 1,166 |
| x | x | x | x | x | x | x | 47 | 1,333 |
| x | x | x | x | x | x | x | 56 | 935 |
| x | x | x | x | x | x | x | 82 | 827 |
| x | x | x | x | x | x | x | 99 | 736 |
| x | x | x | x | x | x | x | 73 | 831 |
| x | x | x | x | x | x | x | 82 | 723 |
| x | x | x | x | x | x | x | 100 | 701 |
| x | x | x | x | x | x | x | 122 | 612 |
| x | x | x | x | x | x | x | 103 | 635 |
Total Reported Sales: 945,220*
Total Sales of 2015: 828,505 (#3 Album of the Year)
Total Sales of 2016: 99,793 (#40 Album of the Year)
Total Sales of 2017: x*
External Links