Due to an influx of spam accounts getting through and joining the site, user registrations have once again been disabled until further notice as we work on a different solution.
Kubota Toshinobu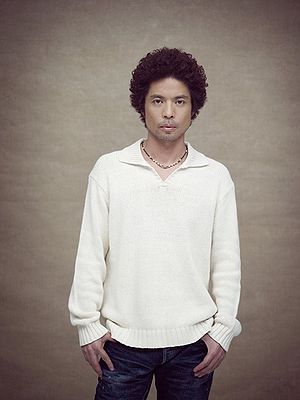 Kubota Toshinobu (久保田利伸) is a Japanese singer-songwriter and music producer.
Profile
Nicknames: Funky Kubota (ファンキー久保田), Kubojaa (クボジャー), King Of J-Soul (キング・オブ・Jソウル)
Birthdate: July 24, 1962
Birthplace: Shimizu-ku, Shizuoka Prefecture
Blood Type: O
Height: 160 cm
Information
Kubota got his start in 1981 when he met Haneda Ichiro at Komazawa University where they started the band HOTTENTOTS. Then a year later, he entered the contest EASTWEST'82 and won the Best Vocalist award. By winning the contest, Kubota earned a record deal for his band to release their own music. He also started to appear as a guest vocalist for various albums for artists like Matsuoka Naoya.
By the mid-80s, Kubota began to compose for various artists like Iwasaki Hiromi, Koizumi Kyoko, and Tahara Toshihiko. Then in 1986, he finally debuted as a singer with the single "Shitsui no Downtown". But, Kubota didn't his break until his fourth single "Cry On Your Smile", which cracked the top ten on the Oricon charts. Before the decade was over, he would release his first best album, entitled the BADDEST, which sold over a million copies.
In 1993, Kubota went to New York to work on his music. Two years later, he debuted in America under the name Toshi Kubota. That same year, he released the single "LA・LA・LA LOVE SONG", a duet with model Naomi Campbell, which became his best selling single as it sold over a million copies.
Kubota later appeared as on the American television show Soul Train in 2004, becoming one of the few Japanese to appear on the show.
Discography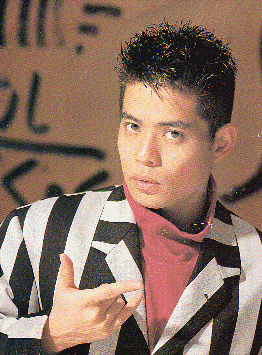 Original Japanese Albums
Original American Albums
Mini-Albums
Best Albums
Collaboration Album
Tribute Album
Japanese Singles
American Singles
VHS / DVD
[1988.05.21] SUPER DUPER VOL.1
[1988.07.02] Keep On Dancing
[1990.12.01] SUPER DUPER VOL.2
[1991.07.01] Nihonichi no BONGA WANGA OtokoS TOUR '91 (日本一のBONGA WANGA 男S TOUR '91)
[1992.03.01] SUPER DUPER VOL.3
[1995.01.28] SUPER DUPER VOL.4
[1996.12.02] SUPER DUPER VOL.5 from New York
[1997.03.01] TOSHINOBU KUBOTA CONCERT TOUR '96 "Oyeees!"
[2000.10.18] SUPER DUPER VOL.6
[2003.05.08] SUPER DUPER VOL.7 THE BADDEST Ⅲ on FILMS
[2007.08.08] LIVE 2006 "WE FOR REAL"
Credits
External Links