Due to an influx of spam accounts getting through and joining the site, user registrations have once again been disabled until further notice as we work on a different solution.
Kyo (DIR EN GREY)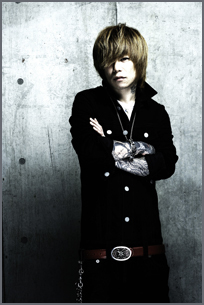 Kyo (京) is a vocalist and lyricist of the bands DIR EN GREY and sukekiyo.
Profile
Stage Name: Kyo (京; Kyou)
Previous Stage Names: Youma (殀磨), Hotoma (殆磨)
Real Name: Nishimura Tooru (西村 亨)
Birth Date: February 16, 1976
Blood Type: B
Height: 160 cm
Weight: 43 kg
Hobbies: sleeping, playing games, collecting warumono
Respected Person: Kiyoharu
Bands:
Information
Once known as Nishimura Tooru (西村 亨), he changed his name to Kyo because he hated his name. The name Kyo was derived from his hometown Kyoto. Standing at a mere height of 160cm, Kyo was born on February 16th, 1976. Before settling in with Dir en grey, Kyo had been in many bands (starting from when he was 17). His stated musical influences are BUCK-TICK, X JAPAN, and Kuroyume.
Kyo is a unique vocalist which many try to copy but are never very successful. He writes all lyrics (he once said he will never write a song with a happy ending; he also doesn´t like to talk about the content of his lyrics, saying he doesn't write them for anybody in particular). On stage, Kyo puts on an expansive show for the fans. One minute he may be inflicting cuts on his chest, wrists and screaming the next he may be running around or playing dead. Kyo also has a fetish for vomiting numerous things (fake blood, raw eggs). He hates being called "cute" or "-chan" and likes to think of himself as scary. His nickname, Warumono, means "little monster" and is the name of his favorite manga.
His name has gone through many changes. In his first band, Gesshoku, he was called Youma (殀磨). In the band Visun he was Hotoma (殆磨). By the time he was in Haijin Kurobarazoku, he had become Kyo (京).
In July 2006, Kyo was hospitalized with acute tonsilitis. He was released, but they had to cancel two concerts in Japan. He was hospitalized again in 2011 for acute tonsilitis again.
Publications
[2001.08.31] Jigyaku, Rensou Furan Shinema (自虐、歛葬腐乱シネマ)
[2004.12.03] Zenryaku, Ogenki Desu ka? Saihate no Chi Yori Namonaki Kimi ni Ai wo Komete... (前略、お元気ですか。最果ての地より名も無き君に愛をこめて・・・)
[2015.08.19] Gasou no Uta (我葬の詩)
External Links