It is thanks to each and every one of you that has made Generasia the largest resource for Asian media info. To our wonderful contributors, thank you!
Secret Love
From generasia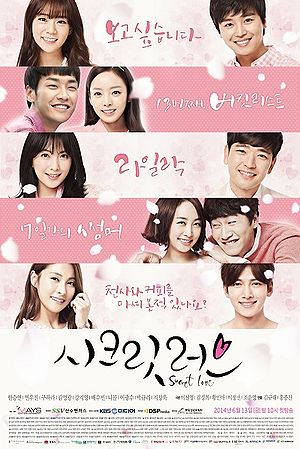 Information
Title: 시크릿 러브 / Secret Love
Genre: Romance, Fantasy
Episodes: 10 (2 episode/day)
Broadcast network: DRAMAcube
Broadcast period: 2014-June-13 to 2014-July-11
Air time: Friday 22:00
Synopsis
An omnibus romance drama that features Five different love stories starring by members of idol group KARA. Themes touched in the drama series involve first love, dating methods in love and breakup, unrequited love and immortal love.
Production Credits
Production Company: Mays Entertainment (메이스엔터테인먼트)
Director: Kim Kyu Tae, Hong Jong Chan
Screenwriters: Lee Sun Young (ep 1&2), Kim Kyung Hee (ep 3&4), Hwang Min Ah (ep 5&6), Lee Jung Sun (ep 7&8), Jo Yoon Young (ep 9&10)
Missing You
(Episode 1&2)
Ji Hye (Han Seung Yeon) is a cheerful girl who is straightforward about her feelings. She has a boyfriend named Hyun Woong (Yun Woo Jin), but he has never said "I love you" even though they have been dating for over 2 years. Ji Hye decides to break up with him, but the next day she hears that he passed away in a car accident. A year after his death, Ji Hye decides to jump from an apartment rooftop out of guilt. But when she arrives at the 7th floor, she finds herself back to the time when she was 7 years old. When she arrives on the 22nd floor, she is 22 years old, the time when she met Hyun Woong for the first time. With this newfound insight, Ji Hye decides to attempt to save Hyun Woong from his destined death.
Han Seung Yeon as Ji Hye
Yun Woo Jin as Hyun Woong
Song Jae Rin as time slip helper
The Thirteenth Bucket List
(Episode 3&4)
A young woman discovers that there is no time better than the present to tell others you love them. Hyun Jung (Goo Ha Ra) is a normal, timid woman who can't confess to her crush of 10 years. But when she discovers that she only has three months left to live she creates a bucket list so that she can live a life without regrets, and becomes a braver, extraordinary woman in the process.
Goo Ha Ra as Hyun Jung
Kim Young Kwang as Joon Moon
Lilac
(Episode 5&6)
So Yeol (Kang Ji Young) is a 17-year-old girl with a bright and cheerful personality. One day, So Yeol and her friends are dancing on the stage at her school festival. Despite the dizzying, dazzling lights, they continue dancing. Suddenly So Yeol falls onstage and is rushed to the emergency room. As her heartbeat stops, she dreams of walking down a cherry blossom road in an unknown place. While the doctors try to revive her, So Yeol embarks on a fantastical journey to find her true love.
Kang Ji Young as So Yeol
Bae Soo Bin as Hyun Joon
Kim Seo Ra as So Yul's mother
A Seven Day Summer
(Episode 7&8)
Two strangers meet on a trip with their own agendas: Mary (Nicole Jung ) plans to find the man she can never forget, and Tae Yang (Lee Kwang Soo) plans to forget the one haunting memory in his past. Will the two find love and peace with their own pasts?
Nicole Jung as Mary
Lee Kwang Soo as Tae Yang
Have You Ever Had Coffee with an Angel?
(Episode 9&10)
This drama presents a wonderful scenario where Sun Woo finds herself in between an angel and her first love. Sun Woo (Park Gyu Ri) will do anything to become the wife of Woo Bin, a college classmate two years her senior. When she chases him all the way to Jeju Island, Sun Woo encounters Angel No. 2013, a friendly being who helps her get Woo Bin's attention. Woo Bin slowly starts to fall for Sun Woo, but is it too little too late? Especially when Sun Woo and Angel No. 2013 are getting closer and falling in love too!
Park Gyu Ri as Park Sun Woo
Ji Chang Wook as Guardian Angel
KARA

Members: Gyuri (L) · Seung Yeon · Hara · Young Ji
Topics
Korean Albums
Korean Mini-Albums
Korean Compilation Albums
Korean Digital Singles
Korean Compilations / Others
Korean Video Releases
Japanese Albums
Japanese Best Albums
Japanese Mini-Albums
Japanese Singles
Japanese Digital Singles
Japanese Box Set
Japanese DVDs
Japanese Collaborations
Taiwan Best Albums

Korean Official Website

·

Japanese Official Website